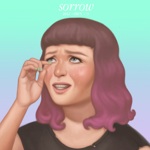 Joining a fine-vein of pun-based indie band names, including Joanna Gruesome, Joy Orbison, Rad Stewart and Jean Claude Jam Band, Canadians Oh No! Yoko here release 'Sorrow', their follow-up to 2011 mini-album 'PAU PAU' (an album that contained '90's Kids', possibly the best pop single nobody has heard). The record begins with an odd, atmospheric post-rock-esque track, more in the vein of countrymen Godspeed You! Black Emperor, but it's not long before 'Mimi Ashi' announces itself with the quite wonderful lyric "Kill all your friends, they look just like their dogs". A rambunctious, hooky rampage through two minutes of chaotic math-flavoured indie-pop, this ensures the record sets off in fine fettle.
An incredibly short release, clocking in at just under 10 minutes, these songs infallibly push themselves on your conscious, create as lasting an impression as possible and leave without so much as a prolonged farewell. You can easily appreciate why this release has come out on Alcopop! Records – its general feel is of their entire roster all playing at the same time, replacing the ramshackle English charm of those bands with a real sense of what makes a truly smashing pop-hook. This has less of a polished feel than 'PAU PAU'; this is the raw sound of a tight-as-a-gnat's-sphincter math-pop band, and it's glorious. An all-too-short release but an unbelievably promising one nonetheless, this needs to be in your ears if you ever wanted a version of Vampire Weekend who sound like they like to party.
3.5/5
'Sorrow' by Oh No! Yoko is out on 19th November on Alcopop! Records.
Oh No! Yoko links: Website|Facebook|Bandcamp
Words by Ollie Connors (@olliexcore)