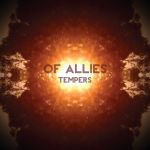 Hailing from Hull, upcoming band Of Allies consists of four lads that have been together for little over than a year. Taking possible influence from bands like Young Guns and Twin Atlantic, Of Allies have released a promising debut into the UK alternative rock scene.
Of Allies tend to combine sweet, melodic vocals with raucous and edgy instrumentation to create both a dynamic and calming sound. Tracks such as 'Ghosts' and 'Play Dead' are a prime example of this. Starting quiet and soothing, singer and guitarist Rich Nichols voice bounces over the song like a pebble skimming water. Alongside the use of excellent guitar work and drumming, these songs slowly intensify, eventually unleashing a tidal wave of cacophonous roaring. The riffs themselves are dark and heavy, while Rich's voice soars above them, as if a bird was caught in a maelstrom.
Their musicianship is something to be admired, as melodic guitar work is seen to be a vital weapon in the band's arsenal. Highlighted in songs such as 'In Stasis', guitarists Rich Nichols and Tom Hewson use melody to both accelerate and decelerate the song, to create an effect that is both tranquil and fierce. However, it's their powerhouse drummer Danny Barrick, whose skill adds a layer of heaviness and urgency to the EP, which thrusts the listener directly into the eye of the storm.
Yet this formula is quite repetitive. With each song blurring  into the next, listening to the EP can get stale, with only the fourth track 'In Stasis', offering a bit of diversity (as it is a slower track). However, to Of Allies credit, they are a band who has just released their first EP, trying to not only find but hone their sound. As a result, this repetitiveness is understandable as well as forgivable.
On the other hand, their lyrics can vary from being cleverly written and well delivered to being a tad immature if not outright stupid. Particularly the track 'Our Decay', which consists of the strongest verses of the whole EP, yet also the most cliché choruses, with singer Rich Nichols belting out "Steal away, our decay, so you can say, I feel okay". Of course, not every band focuses on the depth of their lyricism, nonetheless, listening to it is no more than both enlightening and cringeworthy. This however, is by no means saying that Of Allies can't write a memorable song. Laden with hooks, Of Allies skill at creating an appealing chorus combined with Rich's sweeping vocal style are the key components of creating an anthem. In future live shows, Of Allies are sure to easily ignite a whole crowd sing-along.
Jam packed with catchy choruses and dark, brooding riffs, Of Allies have proved themselves to be a talented and musically adept band, capable of creating anthemic track after track. Within a few short years, they are sure to be able to rival some of the bigger names in the Brit alternative scene. Keep this up boys and you'll be selling out shows in no time.
3.5/5
'Tempers' EP by Of Allies is out now.
Of Allies links: Website|Twitter|Facebook
Harry Miller (@HarrryMiller)