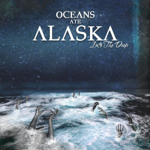 Birmingham's Oceans Ate Alaska is a name that is slowly becoming familiar within the progressive metalcore scene, despite only being around a year old. Having recently signed to Density Records, this young quintet is gearing up to release a new physical version of 'Into The Deep', their début album containing bonus tracks. 
First track 'The Deep (Intro)' starts the album off with ambient piano keys and the beautiful calming sound of the sea. But this is just a ruse as the quintet then launches a full-out assault upon the opening of 'I, The Creator', a track full of viscous guitar bites and a blistering bass line. During tracks such as 'To Catch A Flame' and 'Taming Lions' James Harrison's displays the impressive vocal range he possess – guttural screams give way to melodic clean cuts, giving the album more depth rather than mindless, raging screams.
Face-melting riffs twist with the blazing, energetic drum work during 'Clocks', a monster track that roars to life, with mighty vocals that push the seams of the album to breaking point. Breakdowns galore are heavily featured, especially during 'No Strings'.
As Oceans Ate Alaska wind down with an acoustic version of 'Taming Lions', with Harrison's vocals teetering on the edge of desperation as the track is offset beautifully with acoustic guitars, it would appear that Oceans Ate Alaska are definitely striving for great things. 'Into The Deep' may not be everyone's cup of tea but it's definitely a cracking album from a bunch of young lads.
3/5
'Into the Deep' by Oceans Ate Alaska will be released on physical CD on the 13th November on Density Records.
Oceans Ate Alaska links: Facebook|Twitter|MySpace|YouTube|BigCartel
Written by Jess Tagliani (@JessTagliani)