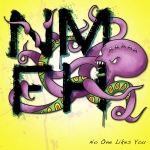 Not My Finest Hour is a young group of pop punk enthusiasts from Cardiff, Wales, a country with a heritage of creating great pop punk bands; The Blackout, Kids In Glass Houses and Attack! Attack! all hail from Wales. Not My Finest Hour's latest EP, 'No One Likes You', follows in this tradition of creating sweet and relatable pop punk.
The eponymous opener, 'Not My Finest Hour', is tender and youthful pop-punk; simple melodies and earnest lyrics in the truest tradition of the genre. 'City Soundtrack' sounds like Welsh compatriots Save Your Breath and matches their knack of writing a good sing along, hook-laden pop-punk track. It is eminently likeable pop-punk that doesn't do too much to break the mould but is still enjoyable enough. 'City Soundtrack' deals with another tried and tested pop punk trope in it's assessment of everyday life and the surroundings of the band as the lyrics cry "wake up to the sound of the city, these streets they have become our home."
<a href="http://notmyfinesthour.bandcamp.com/album/no-one-likes-you" data-mce-href="http://notmyfinesthour.bandcamp.com/album/no-one-likes-you">No One Likes You by Not My Finest Hour</a>
'Thank You – Asshole' treads some well-worn pop punk clichés, encompassing break-up angst and despite the fact this song has been written a thousand times before there is something more tolerable about the way it has been written on this EP.
'Ex Factor', despite it's painful attempt at wordplay, is a stand out moment on the EP. The introduction of strong female vocals on this track really marks it out and shows a lot of scope for musical expansion. This may not be the most original or genre-defining release (as vocalist Tom Lloyd acknowledges on 'Beginnings:"I am such a cliché") but it still deserves attention as a really fun EP and an assured early release from this young band.
This is an EP with a lot of promise for such a young band. There is a lot of time for Not My Finest Hour's sound to be refined, however there are a lot of things to be posi about on this EP of fun pop-punk cuts. Comparisons can be made to early work by You Me At Six and The Story So Far and this is high praise indeed considering the positions those bands are in today. Not My Finest Hour is a hot prospect for the future; they have a likeable sound and with a little more development have a very bright future ahead of them indeed.
3.5/5
'No One Likes You' EP by Not My Finest Hour is available now.
Not My Finest Hour links: Facebook|Bandcamp
Words by Tom White