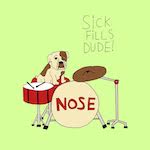 Nose are a four-piece punk rock band based in Leeds that formed in early 2012. Fast forward to over a year later, having torn up local venues along the way, Nose are finally ready to grace us with their debut EP, 'Sick Fills Dude!', which is being released through Sea Wall Records.
I haven't heard anything quite like Nose in… well, I haven't ever heard anything quite like Nose. I feel like the key to describing them is hidden within the song that opens the EP, 'Giant Parasitic Worm'. For a start, that name gives you an idea into the level of weird you're about to step in to, and when you do take that step you're greeted with a fairly lo-fi, run-of-the-mill intro riff, for around 15 seconds. It's then that you're introduced to the real Nose. Heavy, bouncy riffs accompanied by crashing drums, leading into the first introduction of the slurred vocals provided by singer Freddy.
I'd say that once you've heard that first song, you have a good idea of what is to come. The tracks that follow, such as 'Carpark' and 'Intellectual Inbreeding', offer much of the same, though I would note that the latter provides more in the way of a melodic direction which is a nice addition. It seems a little less hard-hitting and a little more easy on the ears, with the lead guitar line actually making you feel like you're listening to a song, rather than four people taking out their anger on their instruments. Moving along you get to 'Passive', which seems to mix the best of the both sides of Nose we've heard so far. It features a horrendously heavy guitar riff, layered with what is becoming, as I listen through the EP, a token Nose melodic lead line. This one in particular sounding like it was written specifically for a guitar hero game circa 2006 – and I mean that in the best way possible.
In summary, Nose are a unique sounding, heavy punk-rock band from Leeds and this debut EP could prove to be a starting point of a very important year in Nose's career. At a push, I would liken it to early Gallows recordings. It has that fuzzy, rough-around-the-edges, don't-got-no-ambitions type of sound. That comparison could be taken one of two ways though. I mean, is the fact that I can't think of a popular band at the moment in the same vein as Nose a good thing or a bad thing? Are Nose 5 years too late, or have they found a niche in the market? I'll let you decide for yourself. 
3/5
'Sick Fills, Dude! by Nose is out now on Sea Wall Records.
Nose links: Facebook| BandCamp
Words by Joe Hart (@raisedbywoofs )