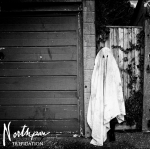 Northpaw wear their influences proudly on their sleeves. Norma Jean, The Chariot and Alexisonfire all spring to mind whilst listening to the Hampshire five piece's latest effort 'Trepidation'.
Northpaw fuse melody with pure intensity in each song on this 5 track EP. Opener 'Extinction' is a barrage of rage from vocalist Charlie Grout-Smith set against a background of chaotic post hardcore. The vocals transfer with ease, from the serene to strained passionate screams. Track three, 'Habitus' stands out for me as one of the best songs; at two and a half minutes it captures the band perfectly and evokes fond memories of 'Pass The Flask' by The Bled. It sweeps along, dragging you with it and although it doesn't stick around long, it certainly leaves it's mark.
Next up is 'Oil Gratulerar', which again shows the band's clear influences. This time it's Alexisonfire, vocalists trading places throughout, with some clever, mathy instrumentation that never seems to stay in the same place for long. With a great mid section, that almost slows down to give you the chance to breathe before kicking straight back in. For me it's the best track on offer here. Closing 'Trepidation', Northpaw offer us 'Artificial Respiration' as a book-end to the record; it works well. It manages to sum up the band in an impressive fashion, and I'm sure fans of this kind of hardcore will find great enjoyment here.
With 'Trepidation', Northpaw have put together a record that, for the genre, works impressively well. I probably won't find myself listening to it often, but if ever I feel nostalgic for the bands referenced here, I will certainly think of Northpaw.
2.5/5
'Trepidation' by Northpaw is set to be released on 28th January 2013.
Northpaw links: Facebook|Twitter|Tumblr
Words by Ryan Clayton (@Clayton_Ryan)