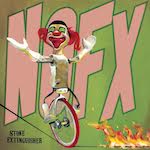 When a band releases a b-sides or offcuts EP, there can be the ever-present thought that the they didn't have enough faith in the songs to put them on the last full-length. Even with bands as long-standing and well-respected as NOFX it can happen, which is unfortunate and can put the release at a disadvantage. Luckily with 'Stoke Extinguisher' the off-cut problem isn't a game-changer and the songs stand on their own merit, but even so, before listening I found myself wondering why some of the songs on here weren't included in 'Self-Entitled'.
The EP has 6 tracks: A new self-titled track ('Stoke Extinguisher'); a Tony Sly cover which can be found elsewhere; a demo from 'Self-Entitled' and 3 b-sides from that same release. All of these songs work very well. Much of what would be expected from NOFX is present, from energy to comedy to political commentary, all of which have rewarded them in the past with their status as punk mainstays.
Lyrically 'Stoke Extinguisher' is a mixed bag. There are moments where the band is very self aware of the simplicity of (some of) their angst and aggression despite sticking to their guns, such as in 'New Years Revolution' ("can we make a difference with lyrics so trite?") but at other times their lyrics can sound a little too much like teenage cynicism ("I don't believe in people because they don't give a fuck"). However, the high point comes from "Fat" Mike Burkett's lyricism in 'My Step Dad's a Cop and my Step Mom's a Domme' which is continually amusing in its playful commentary on police brutality.
The instrumentation here is generally very high quality, which is unsurprising from a band who have had 20 years to hone their style. There is a balanced mix between approachable yet hard-edged punk energy, chaotic and rough hardcore punk moments and some catchy melodies and solos for good measure – a mixed bag, as with the lyrics, but more in terms of varying styles than quality. 'Wore Out the Soles of My Party Boots' is particularly well written, with its development of an ear-catching guitar solo quickly into a subdued melody under the refrain of "call me fat fuck, geriatric punk".
While nothing groundbreaking, the performances here walk the line between refined and rough, favouring either one at different times, and come off reflecting their performers – experienced but ultimately grounded in the youthful spirit they have held for the last 20 years. Unlike many b-sides and offcuts releases, 'Stoke Extinguisher' could be an EP to bring new fans into NOFX rather than only speak to the converted, which is rare and equally impressive.
4/5
'Stoke Extinguisher' by NOFX is available now on Fat Wreck Chords.
NOFX Links: Website|Facebook|Twitter
Words by Ben Kosma (@BenKosma).