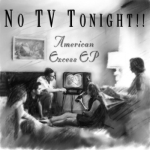 I don't know much about geology, but I recognise a gem when I see and more importantly hear one. Sifting through all of the coal this gem is none other than the recently self-released and self-produced début EP from Brooklyn punk rock trio No TV Tonight, a band who utilise some of the key ingredients for a perfect melodic punk band.
Cleverly selecting all the right hooks from a punk rock utility belt, No TV Tonight play very fast and straight to the point punk, fused with catchy song structures and a serrated bite for good measure. From opening track 'Coincidence and Fate' you are lured into an enjoyable no man's land, only for you to then be ensnared and obliterated by the Breaking Bad tribunal landmine of 'Science' which is short, fast, and one hell of a ride.  This all mounts up on final track 'Your Finer Flaws,' a song whose chorus is so much fun to sing along to that you wouldn't want to turn the record off.
<a href="http://notvtonight.bandcamp.com/album/american-excess-ep" data-mce-href="http://notvtonight.bandcamp.com/album/american-excess-ep">American Excess EP by No TV Tonight</a>
There lies a problem with this EP: it is simply too damn miniscule in time henceforth playing a dastardly trick on your musical taste buds. This problem can also be translated into a benefit for the band, as it now has your attention averted to them and you just want to hear more. Based on the quality of this début EP (which aims high without falling flat) No TV Tonight certainly have a bright future ahead of them.
4/5
'American Express' EP by No TV Tonight is available now on Bandcamp.
No TV Tonight links: Website|Twitter|Facebook
Words by Aaron Lohan (@ooran_loohan)