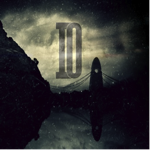 After three years since their debut album, No Consequence brings us their sophomore album 'IO,' a brutally intense explosion of riffs, screams, and pounding drums that is ever evolving yet steady at the same time.
The album begins with 'So Close to Nowhere,' a loud punch with disjointed chugs, screeches, riffs, and crashes and then hits you with some screaming, and you really think you know what this song is going to be all about. But then it completely switches gears and morphs into a melancholy, melodic song with clear vocals and haunting effects. Eventually, those disjointed sounds make a comeback and the metal instruments truly shine.
This morphing is not unique to the first track. Every song has the tendency to move back and forth, ever changing. You cannot go into any track on 'IO' thinking you know what's going to happen. 'Bury the Debt' is the shining example of this morphing. It follows a short, ethereal instrumental track and completely shatters that calm with a super fast paced, urgent tempo with almost disconnected instruments. It then changes into a funky, groovy sound with echoing, muffled vocals and has a jazzy feel. By the end, it is a totally different song and you can barely recall how it began. 'Coerce: Conform' and 'Sentient' are also brilliant examples. 
In contrast, a constant throughout the album that, even though the song may evolve, the guitars are always on point. They are technical, exact, and intricate and really give each track interest and depth. 'Enemy of Logic' and 'Name Your Price'displays this perfectly, but you can find this on the entire album.
No Consequence is also very adept at mashing up sounds. Like on The prevailing sound is an intense metalcore extravaganza, but then some softer, otherworldly electronic and effects-laden sounds will break through, with clean, clear vocals that contrast hugely with the brutality of the screams and chugs.
Speaking of screams and chugs, there are a lot of them. While there are so many things going on within each track, it always comes back to chugging and monotonous screams. The screaming, while adding a great level of intensity, are very one note. And the chugging is, well, chugging and can't add a lot of depth alone. Since this reoccurs over and over, it ends up making every song sound a bit bland. 'All That's Left' shows this, and it seems that songs often falter when there isn't a strong melody to give them structure and a unique sound. Luckily, though, the songs change so often that you may forget about that boring bit in the middle.
Overall, No Consequence's 'IO' is a solid example of a hardcore, metal album. The instruments are nearly flawless and the songs have tons of energy and excitement that keeps you hooked in. And while there are moments of weakness, it's not enough to detract from the band's talent.
3.5/5
'IO' by No Consequence is out on the 1st April on Basick Records.
No Consequence links: Facebook

Words by Jenny Gagas (@Jenny_herself)