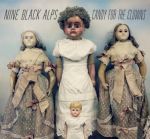 Manchester lads Nine Black Alps couldn't have enjoyed a more emphatic entrance to the music scene back in 2005 when, after only a handful of shows, they were snapped up by Island Records before embarking on a helter-skelter journey of high profile tours and festivals across the world.
Their momentum slowed considerably a few years later, but the indie-grunge outfit maintained a consistent output, and now reach their fifth studio album in 'Candy for the Clowns'. The new record is solid evidence that, although the band's time in the limelight may have been short-lived, it wasn't a fluke.
The loud and groaning Smashing Pumpkins-style riffs in 'Novokaine' immediately take you back to the early noughties, where British guitar bands were still all over the charts and stamping their identity on a generation rediscovering rock music. It's cool and moody, but full of vigour and panache, like the theme-tune to a Bond film directed by Guy Ritchie.
Upcoming single 'Supermarket Clothes' is a stone-cold modern Brit-Rock anthem: big-sounding indie with a beefy and euphoric chorus, driven along to a punk rock beat. It's the kind of song that would have had kids wearing sun-hats and shades jumping on each other's shoulders covered in sun-kissed rain and singing every single word – if only it wasn't written ten years too late.
Nine Black Alps are wonderfully adept at bringing together their varied influences in such a cohesive fashion as to make them almost indistinguishable from each other. 'Destroy Me' fuses the Manc swagger and bravado of Oasis seamlessly with the unhinged frenzy of Nirvana.
But sometimes 'Candy for the Clowns' is less conducive towards reminiscence, and more towards resurrecting repressed and painful memories. Remember those dreary, lackadaisical indie songs that went nowhere and said nothing but just kinda gave you a headache and your older sibling inexplicably loved them? 'Take Me Underground' is this all over.
Elsewhere, 'Blackout' is total Stone Roses worship (I'm from the camp that regards this description as negative but hey, take it how you will) and a few of the other tracks just never really get off the ground. 'Not in My Name' is pretty much just generic, typical chart rock lacking the charm and spirit found elsewhere on the album.
Nine Black Alps are a decent band and despite often being regarded as a flash in the pan, their popularity and extensive fanbase is absolutely justified. Maybe I'm wrong but I feel their time is passed and no matter how good moments of 'Candy for the Clowns' are it's not enough to regain their former status. It's good fun nonetheless and will be enjoyed equally by both fans and those yearning for Brit-rock's heyday.
3/5
'Candy for the Clowns' by Nine Black Alps is out now on Hatch Records.
Nine Black Alps links: Website|Facebook|Twitter
Words by Alex Phelan (@listen_to_alex)