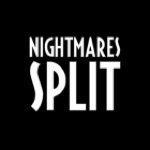 For an EP being released on Hallowe'en, I'm assuming this is because of the band's names. They're both evidently very good bands, but for bands with different sounding music, the only real reason for the split EP is obviously just for the names. 
'It's Not Enough Until It's Killing Me' starts off the EP, the first of 2 songs by Nightmare of You, with a sound reminiscent of 80's music, taking influences from The Cure, but with the sound of bands breaking through and creating a huge impact in the scene right now, such as Bombay Bicycle Club, and The Killers – who obviously have made their mark. When I first listened to this band I wasn't too sure, it seemed like they were trying to bring back a sound that was long gone, but on my second listen I found myself singing along to the songs, having remembered the lyrics, and actually moving to the song – this is a song that will have crowds moving, I imagine it would go down very well in a crowd at Reading or Glastonbury festivals. 
The final track by Nightmare of You, 'Box Of Hops' immediately has that sound I automatically recognised from the previous song, The Cure crossed with The Killers. They can obviously write a hook, and while listening to this song right now, I'm pretty sure this song is going to be stuck in my head. For only 2 songs, they've chosen the right ones, I'm a fan. 
Nightmares For A Week finish the EP off, starting with '2011', a hard hitting song, growl-style shouted vocals, and short-lived – less than a minute! – but definitely a great track, and shows what they're all about straight away. Definitely want to hear more, it's a shame there's only 2 tracks of theirs on here.
'Mr. Grimm' finishes off the EP, a song not as heavy as '2011', and with a chorus that'll have you singing along to. The band are quite different to Nightmare Of You, but with the chorus so catchy on 'Mr. Grimm', there are obvious similarities with both bands. On first listen, I was singing along to the chorus; this is definitely a song I would expect to hear on the radio.
Overall, I think the EP is really good, quite an interesting choice in bands, but it's pretty obvious they were chosen because of their names. They're not the sort of music I listen to normally, but they have done well in making an impression. 
3/5
'Nightmares' by Nightmare Of You and Nightmares For A Week is out on 31st October on Paper + Plastick Records.
Nightmare Of You links: Official Website|Facebook|Twitter
Nightmares For A Week links: Facebook|Twitter|Bandcamp
Words by Callum McPhee.