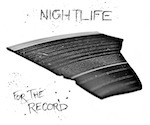 Nightlife is made up of members who have previously accomplished a lot with other endeavours from disbanded bands All or Nothing, The Fight and Chaos Days.
Touring Europe and being part of the US Vans Warped Tour are just some of the experiences the individuals have accomplished. Naturally these experiences as individuals have helped accelerate Nightlife's life. They have a well rounded professional rock sound and a mere month after forming they released their debut EP, 'The Road to Glory', which was well received. 'For the Record' is their second EP and they have only been together for around 18-months! Which is ridiculously impressive. Not a lot of bands can produce such a high quality sounding EP in that time let alone two!
I mean don't get me wrong I love bands like The Offspring but this kind of pop-punk band are not something I usually like at all. The winey voices that the singers use, the horrible repetitive and annoyingly catchy riffs. But for some reason I quite like this band… maybe its the more rock-pop-punk feel they give off. Or maybe its because they have been compared to one of my all time favourite bands – Foo Fighters. At first I couldn't see this but if you stop expecting that classic Dave Grohl voice and appreciate the intricate guitar riffs and the complex melodies; just listen to the music you can hear influence of early Foo Fighters. I mean Nightlife are their on band after all… they aren't going to just want to copy.
Their second EP has a pretty beautiful theme running through it; dealing with whatever life throws your way and refusing to let it beat you. This is something that I can relate to and possibly why I like the band. It feels supportive of the dreamers and the people who get-up-and-go who actually sometimes don't 'get' but keep trying anyway. It also shows discontent with those who have opportunities but just let them pass them by. 'Wisdom Teeth' is probably my favourite song off the EP it really highlights the whole feel of the album; "Take the rough with the smooth, Don't let the world pass you by, nothing resets when you turn off those lights."
Overall I really quite like the EP but I guess that niggling pop-punk vibe is still there for me. I'm far to impressed with the standard of band for the short amount of time they have been together though and the awesome theme that the EP has going on…. so for that I give Nightlife's 'For the Record' 3.5 out of 5.
3.5/5
'For The Record' EP by Nightlife is released on 14th October.
Nightlife links: Facebook|Twitter|Bandcamp
Words by Megan Pacey.