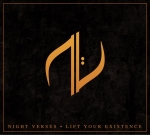 If you haven't already heard of Night Verses, you're in for a real treat; this American quartet has had a skyrocketing success to stardom. These guys have only been producing music together for 18 months, yet their skill and intricacy are similar to bands that have been together for decades. Night Verses released their first epic EP last year, and instantly got back into the studio to work with producer Kris Crummett (Sleeping With Sirens, Dance Gavin Dance, Jonny Craig) to record another outstanding release.
'Lift Your Existence' is fifteen tracks long, and over an hour of outstanding musical talent. This group are ready to show off their skills, and every single track on the album is a real rock masterpiece. The record is brimming with passion, emotion, creativity and innovation. Every track is diverse and it still manages to grab your attention, regardless of it containing a staggering fifteen hits.
The album begins with 'Introducing: The Rot Under The Sun' which stars electrifying guitar riffs, a fantastic drum solo and absolutely breathtaking prevailing vocals. The chorus is superbly catchy, and the instrumental talent is outstanding. The genius guitar riffs are flawless and the melody is absolutely smashing. After listening to this first track, you KNOW Night Verses have something special. The track is simply captivating, the instruments are mesmerising, and the singer manages to take you on a whirlwind of emotions.
This is followed by 'Rage' another terrific track, with an entrancing melody and excellent instrumental talent. Featuring more electrifying riffs, a rocky, fast-paced melody, and powerful vocals, Night Verses really nail it here with the beguiling chorus; it has passionate screaming and lyrics the fans can sing their hearts out to. Even just on the second listen, I find myself singing along. It's influential, thrilling, and marvelously talented. 'Time Erases Time (Strung Out)' follows with the same hard-hitting rocky pace, but with a more technical flare and has wonderful instrumentals that blow your mind.
'Celestial Fires' features slow-paced trance-like verses that build up to an assertive, dominant rocky chorus. The track is unique and unusual compared to the other tracks so far, as it easily transitions from a delicate trance to a hard-hitting metal musical spectacular. It features playful guitar riffs and smashing vocals. 'Antidepressants' is fearlessly aggressive, angry and powerful, with heavy screaming and hauntingly high riffs.
It is almost impossible to choose a favorite track, as they are all individually amazing! 'Whatever Makes You Hate Me' is a lighter track compared to the hits it follows – it still has the rocky features, but has a slower pace with pop punk-style vocals that allows you to sing along. It still has the aggressive screams, but they feature less heavily. The next track 'Blind Lighthouse' adds yet another different dimension to Night Verses style; the track is slow and melodic, with an ambient melody and riffs.
Night Verses have created an outstanding heavy rock album, infused with fantastic instrumentals, sweeping melodies and spectacular breakdowns. The group has already created an incredible album in such a minimal amount of time and it surely can't be long until this group has firmly made their mark in the alternative music industry. This is a MUST listen for everyone who enjoys heavy rock music!
5/5
'Lift Your Existence' by Night Verses is released on 22nd July by Easy Killer Records.
Night Verses links: Website|Facebook|Twitter
Words by Chantelle Kelly (@ChantelleKelly3)