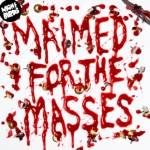 'Maimed For The Masses' is a taster EP for Night Birds' forthcoming full length, 'Born To Die in Suburbia', and unfortunately the New York based quartet haven't inspired me to rush out and grab a copy just yet.
The title track is an up-tempo but routine three minute punk-rock effort that is crying out for a vocal melody or a high point which just never materialises. It's perfectly listenable but not once do you get that desire to hit repeat and run at it again (unless, of course, you're reviewing it and feel like five listens is a suitable judge). 'Barred Out' and 'Last Gasp' both follow a similar suit. We're promised passion and guts on the press release yet I just don't hear anything that's fresh or new here.  The closer, 'Boat Trash', is just a few yelps away from a fairly exciting and adventurous instrumental two minutes but again it's hardly breaking the mould. 
<a href="http://night-birds.bandcamp.com/album/maimed-for-the-masses" data-mce-href="http://night-birds.bandcamp.com/album/maimed-for-the-masses">Maimed for the Masses by Night Birds</a>
Over the years you've learnt to trust Fat Wreck for their excellent releases and dedication to the more brash punk-rock that isn't always likely to bother radio stations, mainstream music magazines or sell out arenas. Whilst every record label loves a success story, you've always felt the label remained true to their roots regardless and that's exactly what we see with Night Birds. It's not remotely close to ground breaking and there isn't much longevity, its gritty punk-rock that's fun for a few moments and swiftly forgotten.
2/5
'Maimed for the Masses' by Night Birds is available now on Fat Wreck Chords.
Night Birds links: Bandcamp|Facebook|Twitter
Words by Tom Beck