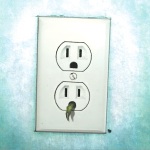 Nekrogoblikon provide exactly what you might expect from a band fully committed to being, well, goblins. Everything's very theatrical, very snarly in places before becoming incredibly operatic. I'm not going to lie, this record is pretty terrible but it's also so much fun it's hard to get mad about it. 
Nekrogoblikon are caught somewhere between Amon Amarth and that band from the Yule Ball in the fourth Harry Potter film – with a little bit of Eastern Europe thrown in for flavour. Seriously, I can't stress enough just how little sense Nekrogoblikon makes – it's wonderful. 'Giraffe' is bizzare – there's a lot of lyrics about dead giraffes for a start; it even ends with a spate of laughter followed by the word 'giraffe' harmonized a few times. Earlier oddness, such as the enormous solos in 'Powercore', really do sound as though they were borne of goblinkind. I'm going to go out on a limb and call on 'Crickets' as the best track on 'Power'. It's the most badass track going on this EP, the vocals are at their raspiest and the guitar work is just top notch, bags 'o fun, silly metal.
At its most standard 'Power' is an entirely average metal record and at it's most unusual it is utterly beyond description. Everything else falls somewhere in the middle, occasionally jumping out to force attention with a full-blown 80s chorus or a rad harmonized riff – or even, and this may well be the misheard lyric to end them all, the cry of "more revolting than a barrel full of ears". There's more than a little chance you'll hate this record, it's very easy to roll the eyes and move on. A lot easier than getting yourself a beer, turning the lights off, hitting play with the volume way up, and pumping your fist in the dark for fifteen minutes. But still, for posterity, I'm going to recommend the latter. See how long you can last.
I'll knock a point off for the press release all about a goblin's hunt for "bit… sorry women" though.
2/5
'Power' by Nekrogoblikon is out now.
Nekrogoblikon Links: Facebook|Twitter|Bandcamp
Words by Thomas Knott (@nounandthenouns)