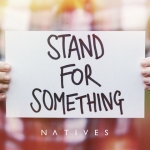 I always get a little more excited about reviewing a band's music when I've heard a lot about them. I haven't heard anything by Natives before, but I've been meaning to get around to it. Since their rebranding from their previous moniker 'Not Advised' they seem to be everywhere, and with a debut album in the pipeworks they must be doing something right.
EP opener and title track 'Stand For Something' proves to me why Natives seem to be mentioned everywhere I look lately. The perfect example of how to evolve from pop punk and still remain relevant to the ever expanding scene. The talent from everyone in the band is immediately obvious too.
A risky move for such a small EP but it seems to work, an acoustic cover of Foster The People's 'Pumped Up Kicks' seems to fit their style. I actually prefer this to the overplayed original, although I would rather have heard an original song.
An acoustic version of 'Stand For Something' seems a bit of a weird choice for a track on a 4 track EP, but there is nothing bad about the song at all. Very laid back and basic, this displays exactly what Natives are capable of. Building up to a crescendo of strong vocals and piano that made the hair on my neck stand on end, I'm becoming increasingly impressed by these guys.
Hints of American pop punk shine through on 'Hate, Fix, Hope', a powerful anthem that I can't get enough of. The vocals shine through once again, proving how much of a driving force they are for this music. Best song of the EP.
One of the best things about reviewing music is being given the opportunity to hear new music, or music that you've been meaning to get around to listening to. Natives have made a name for themselves in such a short space of time, and I feel stupid for not wanting to find out why sooner. It's obvious this EP is just a small taste of what's to come, evident by the acoustic version of the title track and an acoustic cover, but Natives have got me intrigued. I have a feeling I'll be seeing their name a lot more this year, and it's completely deserved.
4/5
'Stand For Something' EP by Natives is released on 2nd June.
Natives links: Facebook|Twitter
Words by Callum McPhee