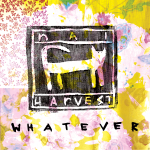 Nai Harvest's 'Whatever' is an absolutely storming album from beginning to end and with this, their debut offering, duo Ben Thompson and Lew Currie will raise the bar to sickening heights. 'Whatever' is exactly the right kind of raw, of desperate, and of so-damn-catchy, that these songs will take up a residency inside your soul so subtle that you might not even realize you've been humming along for an hour. Some might consider this introduction perhaps a little too forward and decide not to read on. Fair enough, just order this record before you close your web browser.
'Whatever' is opened by its namesake, four minutes of emotional immensity that will let you know right there and then what the next half hour – that is if you have the restraint to turn this record off after just one play – has in store. 'Sitcom Fade-in' is faster from the start but still has the slower, guitar driven verse sections that Nai Harvest make their own throughout.
'Distance, etc.' is, if I had to pick my favourite track from this record, the one. It's chaotic yet neat, it has a "woo" straight out of the The Get Up Kids' 'Close to Home', and the line, "Another emotional song about the friends I'll miss when they're gone", pretty much sums up every band I've ever loved. I'll be saying this for a long time – Nai Harvest are a bloody keeper.
I'd had this record on repeat for a few hours when I began writing this review and although I wanted to skip back to the beginning, to refresh myself on each track as I wrote, seventh track 'Washy' was too good to be dishonored so. Magnificent guitars and Thompson's untouchable vocals make this one of the album's key tracks and thus it took a considerable amount of self-restrain to keep this review linear. I could happily have written 500 words on 'Washy' and gone back to listening intently. I'd mention every track in detail but this ten-song record has a hundred percent success rate in terms of notable entries. Following track, 'Red Letter Day, On' is equally beautiful. The one after that ('You're Not That Boring') is even better still, thanks to some great guitar twiddling – there's plenty of this right through the album – and the smart accompanying drumming that never over powers the rest of the song as it could so easily have done.
Unsurprisingly, album closer 'To Be There' is perfect. Driven by the drums in between bouts of dirty guitar chords, flowing into each other and out again into more riffing beneath melodic vocal lines pleading to be sang right back. This track marks the end of one the best albums I've heard in a long time.
5/5
'Whatever' by Nai Harvest is out on the 15th April on Pinky Swear Records and Dog Knight Productions.
Nai Harvest links: Facebook|Twitter|Bandcamp
Words by Tom Knott (@nounandthenouns)