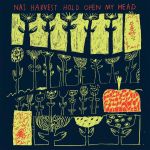 If you're reading this website, you most likely know who Nai Harvest are. I, like most fans of the UK DIY music scene, have followed them from the ground up. It's honestly hard to look at Nai Harvest's story over the last few years without a huge grin washing over my face, and if I can get obscenely cliché for a second, it feels like just yesterday I was first listening to their first 7" 'Feeling Better', yet here I am about to talk about their latest record being released in the States through independent-giants Topshelf Records, as well back home in the UK, where the band are sticking with their UK label Dog Knight Productions, who previously released their debut full length 'Whatever'.
With 'Hold Open My Head', Nai Harvest showcase an ever-so-slightly evolved version of themselves to what we've grown used to. The most notable change is that vocalist Ben Thompson has toned things down a whole lot, with the four tracks from this particular EP, more often than not, featuring a far more melancholic, quiet vocal style to what we have heard before. Long gone are the days of the strained, Algernon-esque screams of 'The Bikes & The Basement' and 'Floor' – and on that note, so are the token twinkly guitar parts for the most.
There's no time for easing listeners in to their new slower, fuzzier and mellow direction with opening track 'Rush' easily taking the 'catchiest hook of the record' award, as Thompson drones out "Everything I love is dead, kill my heart, kill my head" for the first time at around the midway point. The titular track comes next and has a more uplifting feel to it, all the while maintaining the new slower sound – which is actually a theme I picked up on through the whole thing. Although the band have slowed themselves down, fuzzed up the guitars and toned down the vocals, all four songs feel more uplifting to listen to than any previous Nai Harvest song to date. Even the energy-filled titular opener to their debut album 'Whatever' has no match on the sense of exhilaration that this EP provides.
As we enter the half of the EP that hasn't already been released for streaming, 'Pastels' and 'I Don't Even Know' offer up a slightly more familiar sound for fans who have heard the band's previous releases, though even then the difference in vocals helps bring you right up to speed with their new-found-direction – with the perhaps the exception of 'I Don't Even Know' which is the only song from the EP that could have musically and vocally fitted in somewhere on 'Whatever', though, it is yet again a step above in terms of quality.
It's not easy to evolve, and it's certainly not easy to do it so well this early on in your musical career. 'Hold Open My Head' is a positive step in the right direction in every possible way, and here's hoping this EP acts as a teaser for a second full length some time soon. I know EPs don't get much of a mention when it comes to everyone's end of the year list, but I think people will find it hard come December to not reminisce about how they spent all summer listening to 'Hold Open My Head'.
5/5
'Hold Open My Head' by Nai Harvest is released on 3rd March through Dog Knights Productions and Topshelf Records.
Nai Harvest links: Bandcamp|Facebook|Twitter
Words by Joe Hart (@raisedbywoofs)