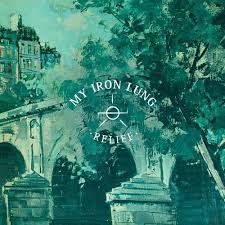 It's not often a record as bold and assured as 'Relief' comes along. Especially from a band still relatively in its infancy. Shortly to fire the starting pistol on a lengthy US tour with Hundredth, San Diego's My Iron Lung exhibit their charismatic brand of melodic hardcore in a fashion that effortlessly ranks them alongside the certified veterans of the genre. In short, it's just…really good. Really fucking good
Opening with the gutsy 'Commonwealth', the album sonically beckons the lighter end of At The Drive In and even elements of Balance and Composure's 'The Things We Think We're Missing' in the guitar work of tracks such as 'Hard Season' and the brilliant 'In Defense Of Drowning'.
Fans of Touché Amoré are sure to be salivating over the freneticism of 'Monuments' and the powerful, well chosen finisher 'June'. Suitably veneered by a gravelly La Dispute-esque vocal outpouring throughout, it's rife with passion but never teeters into the all-too-familiar melodrama of some of their emo counterparts.
If 'Relief' is not only a chronological but a conceptual follow up to 2012's 'Grief' EP, it is named almost ironically so. It's angsty, dramatic and provides almost no literal "relief" other than the promise that bands as good as My Iron Lung are still out there. I'm gutted that we've already cemented the AH writer's picks for the year so far. This would've definitely made the cut!
5/5
'Relief' by My Iron Lung is out now on Pure Noise Records.
My Iron Lung links: Facebook|Twitter|Tumblr
Words by Joe Danher