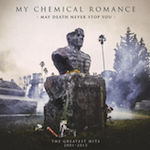 Whilst bands splitting up and reforming is nothing abnormal these days, the news of My Chemical Romance breaking up last year was something many didn't see coming, and for fans, they didn't want to believe it. Nevertheless the inevitable 'best of' collection sees the light of day this week, and much like the band's discography, 'May Death Never Stop You' is a mix bag of hits and misses.
'Fake Your Death', the only previously unreleased track on here, opens the album off with a sense of sentiment as ballad-like piano keys compliment Gerard Way's sorrowing vocals gradually building towards the emphasised chorus line of "just look at all that pain". Whilst it's not the band's best track, it's a fitting conclusion to their creative output.
Afterwards the 'best of' portion kicks in chronological order. 'Honey, This Mirror Isn't Big Enough For The Both of Us' and 'Vampires Will Never Hurt You' from the band's debut album (") sound as raw and desperate as always but it's when the MEGA hits in the form of 'Helena' and 'I'm Not Okay (I Promise)' that the album comes alive. Sure both are two of the band's best known songs, but with such energetic choruses you can't help but singalong.
'The Black Parade' selection dominates the record with five tracks, and this is where the misses come in. 'Welcome To The Black Parade' is grandiose and powerful but 'Cancer' and 'Mama' come off as merely filler. Whilst 'Teenagers' is a fun, riff-filled number with a hint of punk thrown in for good measure.
Something you have to give MCR credit is for the sheer amount of hooks the band wrote during their time together. Along with the aforementioned 'Helena' and 'I'm Not Okay (I Promise)', the band's later work gave us 'Na Na Na (Na Na Na Na Na Na Na Na Na)' which is annoyingly as catchy as the day it was released, and 'SING' is harmonious with Ray Toro providing suitable backing vocals.
For the die-hard fans, three demos end the collection. All three, 'Skylines and Turnstiles', 'Knives/Sorrow' and 'Cubicles', are rough and somewhat spoil the momentum of the album. I would go as far as labelling them unnecessary.
Like most "greatest hits" collections, 'May Death Never Stop You' isn't exactly what it says on the tin, and it's more than likely some fans will argue about some non-singles not being included. For the most part 'May Death Never Stop You' is merely a snapshot of what My Chemical Romance was. Some of it is fantastic and some tracks will be remembered fondly in years to come, whilst others will be forgotten about. On top of that it serves as a good introduction to the band and gives you an impression of how MCR transformed from a dark, punk-ish rock band to a dynamic, arena-sized rock band.
Whilst there longterm legacy and influence is yet to be truly determined; My Chemical Romance were at one point one of the biggest bands in the world. This collection is a reminder of how far they had came and went. A worthwhile album that emphasises My Chemical Romance's highs and lows.
3/5
'May Death Never Stop You' by My Chemical Romance is out now on Reprise.
My Chemical Romance links: Website|Facebook|Twitter
Words by Sean Reid (@SeanReid86)