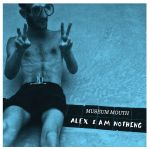 Man, relationships are hard, right? There's the honeymoon period, where you think the sun shines out of your respective other halves rear end; the settling down to regular meals out phase (but you're content with that); the wanting to get fucked up with your mates again stage; and the hating each other's guts part, where you are inevitably faced to make a decision: endure the cycle and do it all over again or break up and, of course, write a whole, bitter, concept album about all of the above. Being someone who has been through this God awful cycle a few times, it's interesting to me that an individual, or group of individuals, would choose to display their purest emotions through an album for everybody to hear. Still, that's what Museum Mouth have done with their latest album, 'Alex I Am Nothing', and for anyone who's ever felt the sting of heartbreak, this one's for you.
The record's actual concept is about being obsessed with somebody you can't have; side A deals with the trying to rationalise the relationship, while side B's subject matter focuses around acceptance and coming to terms with the doomed relationship. When I first heard it though, I completely mis-read this and my immediate feelings (see above) were that 'Alex I Am Nothing' was a break-up album. I guess the concept is in the ear of the beholder and I still think, after further investigation, that this is where it will find its place, In the ears of every twenty something who's lost their perfect hipster princess. (*Sobs*)
Alex I Am Nothing by Museum Mouth
The punky, juvenile delivery of 'Alex Impulse's' guitars are what actually introduce the listener to the LP and the jarring, oddball vocal delivery that trembles with insecurity is what hooks you, it's shaky adolescence speaks to all those feelings that you'd thought you'd buried. The record rarely veers of this road and sticks to its theme extremely closely throughout; only during 'Handsome And Boring' do we hear the use of another instrument, and as things start to get a little hopeful in the lyrical subject matter towards the end, we all come to accept the harsh reality of the relationships ultimate demise.
Different influences slide in and out of Museum Mouth's masterpiece, everything from Weezer's surf-pop to an Avi Buffalo mixed with Brian Fallon smoking twenty a day vocal tint. If nothing else in an interesting record and although I don't think everyone will get it to those that do it will mean everything.
I don't know how else to describe this record really, it's unsettlingly satisfying knowing that somebody else has felt a certain way. Music, at the end of the day, is how you identify with it, and although Museum Mouth might sound a bit mad at points, they're walking that fine line between insanity and genius.
Listening to 'Alex I Am Nothing' shows you that the best way to get over something is to obviously write and release a record about it. Life lessons and a great record, sold.
4/5
'Alex I Am Nothing' by Museum Mouth is out now on Self Aware Records.
Museum Mouth links: Facebook|Twitter|Tumblr
Words by Shaun Cole