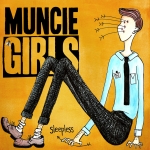 Last year I was given the opportunity to review the second EP from Exeter punk trio Muncie Girls, entitled 'Revolution Summer'. I took this chance, and boy was I thrilled and hooked by this band's charm. Since recommending them for the Already Heard top 50 bands to watch out for in 2013, I have been waiting patiently for a new record. And my patience has indeed been worth it, as Muncie Girls return with their fantastic third EP 'Sleepless'.
This four track record kicks in off with band's strengths in full tow. 'Car Crash' and 'Time We've Bought'are fast melodic punk songs that represent the consistent catchy energetic releases the band have become known for. The differential features between them are this: the former has a wonderful chorus woven with backing vocals, whilst the latter has an extra kick securing an angst filled nature without sacrificing the melody.
<a href="http://munciegirls.bandcamp.com/track/car-crash" data-mce-href="http://munciegirls.bandcamp.com/track/car-crash">Car Crash by Muncie Girls</a>
By track 3 'Music Forever', the band takes somewhat of an explorative turn to their formula. The tempo begins at a slow pace, which forays into chimes and an endearing flow. This then builds up into the usual controlled energy but with keys and an added tuneful pinch. It's all nicely done in a timely manner and it shows off the band not afraid to change the tempo or mood. On the other hand, there is something missing to give it that extra punch, but time is what the band has to work on such things.
The EP is closed by the titled track, which sees a return to their well-honed catchy energy. As a track 'Sleepless' just has all the right components to take you to the exit and shut the door. Well balanced indie punk inspired guitar, bass and drums, keys, group vocal led ending, a sense of loveliness to it and a hopeful message at the end.
Lyrically, the band draws from themes and problems surrounding anxiety, regret, and other personal experiences. What's done so well by the band is their ability to wrap such subjects around with music that is lovely, sincere and quite upbeat in some parts.
Overall, Muncie Girls have once again well and truly delivered in consistent heart on sleeve, melodic punk rock. They manage to keep their usual catchy energetic formula, but explore other tempos and moods to convey their songwriting, even if it's not reached to perfection yet. The quality of this EP just further proves why I recommended them in the Already Heard top 50 bands to watch out for this year. They are fantastic band who have big things ahead of them, and they are worth your damn time!
4/5
'Sleepless' by Muncie Girls is out now on Specialist Subject and Yo-Yo Records.
Muncie Girls links: Facebook|Bandcamp|Twitter
Words by Aaron Lohan (@ooran_loohan)