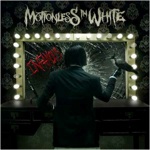 Sacramento sextet Motionless In White have exploded onto the music scene. Once the underdogs, they've risen to come out on top as they slay audiences the world over with their Goth-tinged metalcore. People either know them for their outrageous looks or their furious music or, even perhaps, for their incredibly positive vibe towards their legions of fans.
After releasing their debut album 'Creatures' via Fearless Records, support for Motionless In White seemed to increase tenfold. Following numerous tours, the sextet somehow managed to find time to record and release their latest offering, 'Infamous'.
Deliciously dark opening track 'Black Damask (The Fog)' starts off with haunting keys before giving way to a full-out attack. Chris Motionless' vocals instantly snap from incredibly clean-cut to low, guttural screams layered over gritty riffs. Tracks such as 'A-M-E-R-I-C-A' and 'Burned At Both Ends' weave powerful lyrics upon the listener, with charged, demonic drumming and discordant synths – Motionless In White are pulling out all the stops to hammer this album home, with hearty slabs of mighty bass.
Throughout 'Infamous', the Sacramento sextet are scintillating; during 'Hatefuck', comparisons to Marilyn Manson's are inevitable. But the dark undertone of the track, teamed with cries of "Hatefuck" create a tense atmosphere, exemplifying the sextet's skilled and tight musicianship. 
As 'Hatefuck' trails off, it proves that 'Infamous' is a step forward for Motionless In White. A gripping album that refuses to let up from the opening track, 'Infamous' is an album that needs to be on everyone's playlist, no matter what. 
4/5
'Infamous' by Motionless In White is out now on Fearless Records.
Motionless In White links: Official Website|Facebook|Twitter|YouTube
Words by Jess Tagliani (@JessTagliani)