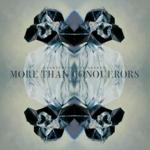 Foretelling is quite a marvellous tool within the world of television. Many instances have occurred, but the most current and topical example would be with Vince Gilligan's Breaking Bad. Now, I'm not going to explain where these are or how they're used as I wouldn't want anyone to miss out on a review due to fear of spoilers. Chances are you know exactly what I'm on about as most people have watched the show, and if you're one of the few who've just returned from a mission to space without any knowledge of popular culture for the past 5 years then, well, you're forgiven. And get on Netflix now.
In that time you've been away, More Than Conquerors have released their debut album. Yeah, debut. And between you and me, I think it's something special. Actually, let me explain. It's good, and it's very good for a debut from a small British band. Whilst not being a perfect album, and that it'll be hard for it to truly stand out in a year when music has been on exceptional form, I think it bodes incredibly well for their future.
'Everything I've Learnt' certainly nestles well into the alt. rock category of musical classifications and this puts them on line with big hitters like Biffy Clyro as well as those lower down the pegging order such as Thrice and Reuben. What's great is that musically it's good, of course, but also that's it's intriguing; nothing feels rehashed or recycled, it feels fresh, yet vaguely familiar in a sense that this is what you've been waiting for.
Opener 'All That We Can' has an incredibly strong Reuben feel to it, breaking back into multi tracked vocals of Kris Platt that are one of the strongest points of the record. Of course, a lot of people pay attention to lyrics and find something to relate to in them, which is true here, but also that they're not cheesy or have this unexperienced feel from a band who are only on their debut album. And with every repeated listen I find myself singing along more and more, so much so that I started singing lyrics at work despite not having heard the album yet on that day. That, dear reader, is catchy song writing. Have a listen to every chorus and you'll be greeted with example after example.
It's with every listen that it begs for my attention more and more. There's nothing particularly crazy or extravagant about this album, it just happens to be very well written. It's the kind of album that makes me incredibly jealous that people of a similar age to me are able to write such brilliant music and does inspire me to pick up a guitar and try and knock some songs out once again in my life. It's this kind of impact that makes me realise this is something great. If it can have this effect on me then I know what we have here is something good; I guess the word I'm looking for is inspiring.
It would be so easy to give this album 5/5. I mean, there's nothing wrong with it. It ticks all the boxes that I like music to tick and whilst this is just my opinion, I'm really hopeful that others reading this, like yourself, will enjoy. Whilst initially starting with a 4/5, I do think it's just a bit more special and hopefully won't be under looked, so that's where I boost my rating. No 5/5 though, because I do believe this is only the beginning and there's plenty more to come.
Foretelling is quite a marvellous tool within the world of television. Here, it's unintentionally gone and paved the way for More Than Conquerers, as I wouldn't be surprised at all if they're playing to massive audiences in 5 years time and, well, being More Than Conquerors.
4.5/5
'Everything I've Learnt' by More Than Conquerors is out on the 30th September on Smalltown America.
More Than Conquerors links: Website|Facebook|Twitter
Words by Mikey Brown (@MikeyMiracle)