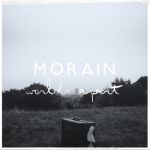 Straight up, I should probably declare my bias towards Morain. The members themselves are friends of friends from university and I've seen them live a number of times, it's even my guitar in their video for the previously released 'Are We Lost'. So how can my opinion remain impartial throughout this review? Well I thought long and hard about this, and realised that my objectivity could only really be validated by telling you that, at first, I didn't actually like this EP. And I'll explain everything now.
It's been a long time since the last proper Morain release, and in that time a lot has happened to the musical landscape. Music is a continually evolving thing and as time passes people's tastes, my own included, also change. I think that's perhaps why the EP didn't particularly capture me the same way that the first listen of 'Animals' did all that time ago. By the second full listen through though, this initial negativity towards 'Worlds Apart' evaporated and, again, I can explain everything.
'Worlds Apart' begins on the first single 'Who Would've Known'. It instantly sets the tone for the other three tracks, it's reverb driven guitars bounce around the record giving the drums and bass enough space to breathe and really lock into the groove that drives the songs. The melodies then are allowed to soar and really serve their purpose in hooking the listener, the acoustic driven 'Fighting With The Devil' is a great example of this as the chords change and the vocal combination become utterly undeniable.
No particular element stands out as technically amazing, but Morain's style seems to be more about the craft of creating an all round great song, one product that doesn't suffer as a result of a warped focus on one particular part or instrument. Morain have always straddled the pop-rock fence, occasionally even stepping more into the pop side of things, and through 'Worlds Apart', they definitely cement their status as masters of their craft.
'Alive' is the track that serves as the EP's finale, and whereas bands like You Me At Six and Deaf Havana might had to initially cut their teeth in the pop-punk world, it's more than clear that Morain were always built for stadiums.
4/5
'Worlds Apart' by Morain is out now.
Morain links: Facebook|Twitter
Words by Shaun Cole