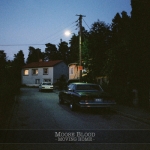 If you've been reading Already Heard for a while now then you will know we quite like Moose Blood. They were part of our 2013 preview and recently featured in our "Recommends" series, so you're probably expecting us to give plenty of praise to the Canterbury quartet's début EP, 'Moving Home' right? Well you're certainly not wrong!
If you're a fan of jangly Pop Punk/Emo than you're going to be spinning 'Moving Home' for quite some time as it's more or less perfect. I'll go as far as saying it's the best release of 2013 so far and it'll take something extra special to beat it.
So you now know 'Moving Home' is good but why? Well the six songs on show here are a pure enjoy to listen to as Moose Blood's mix of upbeat melodies and jangly and driving guitars that are backed by songs about being in love, drinking coffee and nostalgic pop culture references. For example 'Carbis Bay' mentions Dashboard Confessional, listening to American Football and singing along to 'Nevermind'. What more could you ask for?
<a href="http://mooseblood.bandcamp.com/album/moving-home" data-mce-href="http://mooseblood.bandcamp.com/album/moving-home">Moving Home by Moose Blood</a>
After the intro track that is 'My Own Boat,' 'Evening Coffee' sets the (high) standard with duel vocals, bouncing tempo and raw guitars providing the backdrop to a tale of sincere love; "'till we know that they're asleep and I know that you're all mine/'cause your body tastes so sweet tonight."
The title track 'Moving Home' keeps up with the momentum as the bands guitars slightly drift as Eddy Brewerton sings about his insecurity and need to find comfort back home. Whilst 'Drive' is bitter, alcohol-infused number that confidently pounds it way through; "I don't want to see your face again."
'Bukowski' is a must-hear for it really brings home what Moose Blood is all about; energetic, "poppy" guitar-driven songs that thrive on suitable harmonies and lyrics that you can relate too. On this occasion Brewerton mentions introduced his desired love to Jimmy Eat World's 'Clarity', teaching the words of 'The Sound Of Settling' (Death Cab For Cutie) and making them watch 'High Fidelity.' It's sincere yet comforting.
Overall 'Moving Home' is a short but outstanding achievement from a new band that confidently takes an appreciative DIY approach. Any hype or expectations are thoroughly fulfilled from start to finish. Get used to hearing more about Moose Blood especially if they somehow beat the ridiculously high standard set from 'Moving Home'.
A must have for any fans of nostalgia-filled Emo/Pop Punk.
5/5
'Moving Home' EP by Moose Blood is expected to be released on 7" in early February through Fist in the Air and Day By Day Records.
Moose Blood links: Facebook|Twitter|Tumblr|Bandcamp
Words by Sean Reid (@SReidPortfolio)