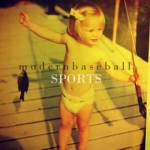 If you haven't heard of Modern Baseball, you're quite frankly, missing out. Having been featured in our 50 Bands to Watch in 2013, and our Something For The Weekend feature, here at Already Heard we have been championing this band and their latest record 'Sports' for awhile now. Released in November last year, 'Sports' is the début full length from this Pennsylvania band. Likened to artists such as The Weakerthans and The Front Bottoms, there are high standards set by these comparisons before you've even hit play. Currently being re-released on Lame-O Records and Run For Cover Records in the US, 'Sports' is an album that is going to really raise the bar for this band and others alike.
This wasn't a record that was seemingly highly anticipated, more one that seemed to swoop and hit a home run (mind the pun) out of nowhere. I was previously aware of this band, but hadn't really made the transition to actually listen to them. When I did, I first listened to the older tracks which didn't really excite me in a way that I soon would be. The first track of 'Sports' however, hit with such a force that I listened to it on repeat a good 6/7 times before taking the time to continue on to the whole thing.
<a href="http://modernbaseballpa.bandcamp.com/album/sports-2" data-mce-href="http://modernbaseballpa.bandcamp.com/album/sports-2">Sports by Modern Baseball</a>
Their youthful ambience shines throughout the whole record. Lyrically, they have the same way of expressing things better than you ever could, similar to artists like Nana Grizol and Say Anything. Whilst musically, they are way way beyond their years. Most bands of this age, and for their first release aren't quite secure in the ilk of music they want to portray. They switch between genres and ideas and nothing is solidified. Modern Baseball don't face that problem in the slightest. Instead of just releasing a solid record, they have released something that is far better than any other band in this genre currently too. It's astounding when you think about it really.
'Sports' is a release that everyone can relate to. With the opening track 'Re-Do' seeing the singer almost conversationally discuss his love for life and portray his youthful exuberance for all things to come. The line "No monumental moment ever came from saying/Come on dude, just take one more shot" is the icebreaker of the album. An explosion of indie pop punk continues on from this moment. Tracks like 'Chl03k' examine things such as Facebook and Twitter, in the most non twee, relatable way possible. 'See Ya, Sucker' takes on a more emo, Dowsing kind of style; this is the beauty of this record though.
Whilst every song is easy to relate to, every song also has its own unique style that can't be pigeon holed into one genre, and that's exciting! Records that manage to dip their wick into each kind of genre, whilst remaining on track and kept together, are few and far between. Or rather, people just don't want to attempt this, as it's a hard task to pull off. Modern Baseball have exuded youthful expression in the most intelligent and mature way. It really is hard to find a bad thing to say about this release.
5/5
'Sports' by Modern Baseball is available now on Lame-O Records and a re-release is expected soon through Run For Cover Records.
Modern Baseball links: Bandcamp|Facebook|Twitter.
Words by Rosie Kerr (@Rosiekerr)