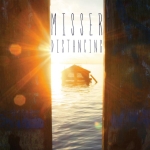 Misser's last record was 2012's fantastic full length, 'Every Day I Tell Myself I'm Going to Be a Better Person' and the appearance of this EP less than a year later created both excitement and apprehension. Could two busy dudes, from opposite sides of the USA, one of them on tour in other countries, really pull five release-worthy tracks out of the ether so soon after their last record? Never minding that Tim Lander's day job, Transit, have just released their latest offering.
No time is wasted in proving that Misser can do just that as opening track 'Goddamn, Salad Days' bursts out with what is rapidly becoming the trademark Misser sound – sweet riffs and excellently worked dual vocals. This band has a lot of things going for them but above all they have hooks. Every single song on this record demands to be sang back and all of them are so smartly written that by the end of the first listen you'll feel as though you've known these tracks for ages.
Most notable for this is summer anthem 'Alone, Die,' a burst of pop punk brilliance that gets the job done in a little under two minutes and is just another example of the bands ability to produce hook after hook. Regardless of everything else, no matter what you think of 'Distancing' there is no denying just how catchy these five tracks are. Closing track, 'Slow it Down // Write it Out,' for example, comes slower at first before launching into yet another bouncing chorus. It's a track that will have crowds on their feet and enjoying themselves whether they'd care to be or not.
There are elements of both Transit and This Time Next Year to be found in Misser, but this is a band deserving of their own recognition despite the members' musical background. Every inch as good as their full length, albeit over five tracks instead of thirteen, 'Distancing' is an excellent addition to the collection of a band who just begged to be called anything but a side project.
4/5
'Distancing' EP by Misser is available now on Rise Records.
Misser links: Facebook|Twitter
Words by Tom Knott (@nounandthenouns)