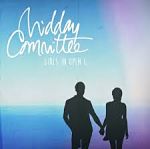 Hailing from Portsmouth, Midday Committee have come a long way since their inception in 2010 with national tours and two releases under their belt. On their third, 'Girls in Open C', they aim to cement their polished sound, with a lot of nods to influences such as The Story So Far, Transit and the like, as well as a lot of the newer wave of English poppy rock that they've shared a stage with, like Kids in Glass Houses and Don Broco. They're in good company and provide.
Sound wise, its very much influenced by pop punk that takes itself a bit more seriously, while talking about the experience of youth and relationships in flux. There are lots of songs about the struggle to escape from small town blues, the kind of thing a lot of us can identify with, with. 'Hometowns' capture this frustration really well, and puts it to a singable chorus that its hard not to bounce along to. There's also that 'girl meets guy then messes him around' relationship drama covered in 'Maybe I Should', with lush vocal harmonies and shouted gang vocals to lure you in. The vocals are well developed and compliment the clean, simple riffs in tracks like 'Casino', and these guys can sing, rather than trying to affect vocals that are a halfway house between singing and shouting.
The whole thing bounces along happily, with a lot of the optimism that Drive-Thru's poppier acts were releasing 10 years ago, but with less whiney american accents. There's a quieter moment in ending track 'Just Me and You' with guest vocals from Christina Rotondo, and it's a brilliant climax for the record, the two voices mix sweetly and as much as acoustic tracks ending an EP are a bit of a standard thing, I don't know where else this could have gone. It's a good strong ending, and I found myself wanting more of that contrast in style.
The whole thing has a polished sound to it, and in all honesty, its a really well put together piece of pop punk. It doesn't light the world on fire, with a "bare bones" feel to some tracks, but it definitely gets under the skin of what the band are about. I'd like to hear a bit more development and more character to the band in future releases, because if this was album length, I think it would get a bit samey. Given the audience they're pitching at though, I think they'll be pretty pleased with the result.
3.5/5
'Girls in Open C' by Midday Committeeis out now.
Midday Committee links: Facebook|Twitter
Words by Heather Robertson (@thecuriosity)