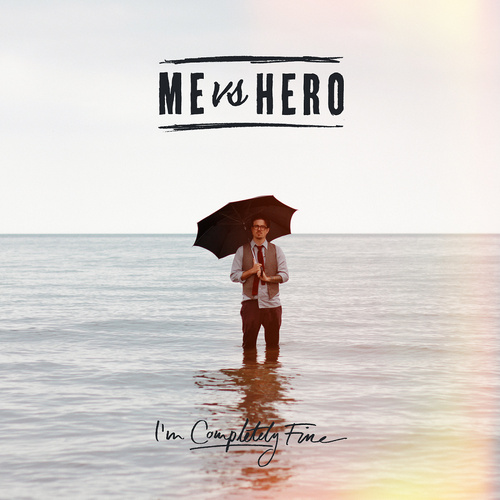 As another dismal summer slowly fades into autumn, the hopes of seeing the sun lasting more than just a couple days have long faded. All is not lost however, as UK pop-punkers Me Vs Hero have returned with a new album, 'I'm Completely Fine', to brighten the yet otherwise dull, British weather. Well, that's what the average Me Vs Hero fan would assume, as 2010 album 'The Days That Shaped Our Lives' was chock-full of cheerful, upbeat jams. Yet upon listening to their newest record, 'I'm Completely Fine' displays the development of a youthful, carefree group's progression into a much more mature band. Discussing issues such as the state of the economy as well the prospects of being homeless, Me Vs Hero really showcase the trials and tribulations the band has faced these past years.
Though not necessarily abandoned, Me Vs Hero's music style has changed noticeably in comparison to 'The Days That Shaped Our Lives'. Originally displaying a prominent easycore sound, the band has wavered to a style that is much more reminiscent to newer bands in the scene, whether this being intentional or not. Of course, there is no doubt that 'I'm Completely Fine' is a pop punk record, however Me Vs Hero seemed to have bypassed the teenage angst that so many of these newer bands embody, and as a result have focused on perhaps more serious topics. (Before anyone starts complaining, I have no ill feelings towards any new bands in the scene, it just makes a nice change for a pop punk band to have an album that doesn't solely focus on relationships).
Saying this however, songs such as 'Virtues' and 'Things We Know' are nevertheless a throwback to their older material, featuring gang vocals and the odd breakdown, Me Vs Hero highlight their earlier influences from the likes Four Year Strong to Set Your Goals. Lyrically, Me Vs Hero detail their struggles honestly, be it the sense of unfulfilled ambitions on 'Rush For Gold', the optimism of the uncertain future on 'Virtues', or just the brutal honesty of the track 'Opposites', ("I get so sick of working overtime, It's hard to just get by"). The band ultimately touch on issues that are not only relevant to themselves, but can be relatable to anyone who has had to deal with a demanding job, the financial struggle of staying afloat or dealing with the eventual realization of getting older.
Nonetheless, despite the stylistic change, Me Vs Hero's knack in creating a catchy melody is still second to none. Songs such as 'Skin and Bones' and 'Marks of A Slave' both offer infectious sing-alongs, with the latter track opening with an anthemic, "We're all born defined by our cultures",which is sure to easily ignite a crowd sing-along on their upcoming tour. On track 'Hang In' however, the band shakes things up a little with a rather downbeat acoustic number, despite its overall positive tone. The song details more of the issues that the band has had to face, yet the song offers hope that things will eventually get better in an otherwise bleak situation.
Overall, the future of Me Vs Hero is uncertain, as it's rare a UK pop punk band can cause a big enough splash in a scene saturated with wave after wave of new bands (asides the obvious). Yet, with an album packed with gutsy hooks, honest lyrics and an unwavering dedication to their craft, it's needless to say Me Vs Hero have come out swinging with a fire in their belly and their fists raised, ready to take on the world.
4.5/5
'I'm Completely Fine' by Me Vs Hero is out now.
Me vs Hero links: Facebook|Bandcamp|Twitter
Words by Harry Miller (@HarrryMiller)