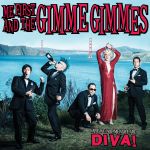 Nothing in the world of punk can warm the soul quite like Me First and the Gimme Gimmes. Their power-chord tributes to the classics from every genre under the sun are brimming with joy, humour and fist-pumping attitude. But beyond all this, the songs are more often than not dynamite covers that you can genuinely go crazy to.
I was excited, therefore, at prospect of the first record in a whopping six years from the Fat Wreck Chords super-group featuring members of NOFX (Fat Mike), Lagwagon (Joey Cape, Dave Raun), Foo Fighters (Chris Shiflett) and the Swingin' Utters (Spike Slawson). I was rather surprised to find that, whilst there are definitely some fine additions to an already very healthy set here, this was the first release from the boys which I found underwhelming.
Some of the songs just feel like straight-up covers (including their cover of 'Straight Up' by Paula Abdul). You expect the Gimmes to grab a song by the scruff of the neck and whip it into frenzy, with Spike hollering and switching lyrics and generally being a very talented clown of a singer. You expect Joey, Mike and Chris to throw in little tributes to punk and some killer riffs that give the songs a new edge.
Instead, the likes of Gloria Gaynor's 'I Will Survive' and Christina's 'Beautiful' just sound like those tracks, but with a man singing and some chugging guitars. 'My Heart Will Go On' even sounds like Spike is genuinely in the moment: all very soulful and, dare I say, a little bit cheesy, with the rest of the band giving it a Gaelic vibe. I wouldn't go so far as to say they take it seriously, but it's more a case of it feeling like the fun is missing and they're going through the motions.
Having said all of this, there are still some absolute zingers on 'Are We Not Men? We Are Diva!' Their take on Cher's 'Believe' is wonderful. Spike runs out of breathe doing the "after love after love after love after love" bit at the start before the whole vocoder thing which will have you in stitches. Aside from that it absolutely kicks arse, with all the sing-along moments and epic choruses/bridges which are prime Gimmes territory.
'Karma Chameleon' is another humdinger, and a great example of how these guys can take bits of popular songs you never even noticed, and sing them with such gusto and zeal that you change your mind about the track completely. Up until now I only ever heard the annoying chorus but when Spike sings on the verse, "I'm a man without conviction, I'm a man who doesn't know, how to sell a contradiction, you come and go, you come and go", you're hanging on every word.
There are certain tracks which are very oddly chosen. Gaga's album track 'Speechless' and Donna Summer's 'On The Radio' just don't really have the qualities to work as covers, whilst Whitney Houston's 'I Will Always Love You' is just way, way too chorus heavy to structure into a guitar track (although it does show that Spike can sure as hell hold a note).
This is, after all, a Gimmes album, and you're still going to get a kick from blasting it out of your stereo on a car journey with the sun in your eyes. By most band's standards it's a good cover album, but we've come to expect something pretty special from Me First and the Gimme Gimmes, and this doesn't honestly live up to its predecessors.
3/5
'Are We Not Me? We Are Diva!' by Me First and the Gimme Gimmes is out now on Fat Wreck Chords.
Me First and the Gimme Gimmes links: Website
Words by Alex Phelan (@listen_to_alex)