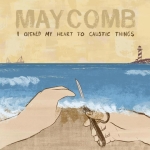 Pop punk quartet Maycomb had great success with their 2010 'Crystal Tiger Blues' EP and two years later they make a return with their debut album 'I Opened My Heart To Caustic Things.' Having made a positive mark on the live circuit, the quartet are set for big things in 2013 and having released this debut album last month, this could be a promising step to a successful career. 
Opening the record with a mid-paced but energetic hook is 'New Storm,' continuing into a similar energy-fuelled rhythm which is heavily featured throughout the track. Distinctive high range vocals give the band a Bayside feel and the pop punk quartet have made a bold statement in this opening track. 
'Dynamiter' is awarded standout track on the record so far, with it's powerfully driven pop punk riffs providing an upbeat yet somehow easy listening effect, perhaps this is the combining of softer vocals. Moving on, 'Sinking Songs' follows and Maycomb express a great deal of emotion particularly in the vocals in the chorus. This emotion is reiterated in the foreground rhythm section and quieter background vocals mid track. 
'Out Of The Darkness Cometh Light' brings the record to a calmer, slow pace with a focus on guitar and vocals. This chilled side of Maycomb is just as commendable as their energetic offerings and as a short interlude, this track is a perfect transition from the first to second half of the album. 'Jetsam' is another laid back track that features soothing backing vocals in the chorus along with infectious rhythms and complimenting mid-pace percussion. 
'I Opened My Heart To Caustic Things' is a fantastic record: it's easy to listen to but manages to provide a great energy at the same time. I only wish I could have had my hands on this record just a few months early because it would make for a great summer soundtrack full to the brim with bright, loveable jams.
4/5
'I Opened My Heart To Caustic Things' by Maycomb is available now on I Am Mighty Records.
Maycomb links: Facebook|Twitter|Bandcamp
Words by Hannah Gillicker (@HannahGillicker)