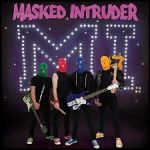 Masked Intruder's 2012 debut was one of my favourite releases of that year; last year I stalked them on numerous tour dates and I'm still desperate to find out who they really are (I still don't think it's Teenage Bottlerocket or Mikey Erg).  I know I wasn't the only one to be won over by their songs about stalking and petty crime, and plenty of people are looking forward to this release.
Maybe this is why I'm disappointed by 'M.I.',  as I fully expected an album that was exactly the same as the last. Masked Intruder's new release is a more mature effort, having toned down the crime references and cranked up the romance.
Opener 'I Fought the Law' is a rework on an old EP track, a brilliant reference to The Clash, furthering "I fought the law and the law won" to "I fought the law and the law beat the shit out of me". It's wondrously catchy and the only thing that bears a strong resemblance to their earlier material.
Many of the songs on the album have more of a 60's barbershop feel to them, and while this is an amusing novelty at first, with 'The Most Beautiful Girl' treading the right line between schmaltz and sweet, by the time we get to 'Stars' and the acapella 'Almost Like We're Already in Love', things have moved into out-and-out cheese territory. While some may enjoy this change in focus, what I loved about Masked Intruder was their attitude and that's distinctly lacking here.
Thankfully when they get the balance right, Masked Intruder strike pure gold, 'Crime Spree' is a great love song based around embarking on a life of crime and 'Hey Girl' is 90-seconds of Ramones style fun. 'You're the One to Blame' is similar to 'Heart Shaped Guitar' but pales in comparison, as if the band have worn out all their ideas.
I never thought I'd say that an album needs more references to stalking and knife crime, and yet without the novelty aspect of Masked Intruder, the masked bandits are simply too sappy to be brilliant. There's still plenty to enjoy here, but unfortunately it's lacking the tongue-in-cheek edge that made their debut such great fun.
3/5
'M.I.' by Masked Intruder is out now via Fat Wreck Chords
Masked Intruder links: Bandcamp|Facebook|Twitter
Words by Jay Sullivan