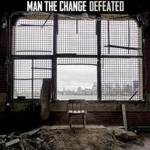 When it comes to a genre or a demographic in music, it is quite easy to tell the difference between the cliché and the genuine. This is especially relevant to the pop-punk/melodic hardcore variety; over recent years a growth in this genre has identified half-hearted formulaic patterns; but every so often there is always a glimmering light in the genre which is glowing with honesty and passion that doesn't become prey to the talons of the clichéd.
Hailing from Brooklyn, New York, melodic punk four-piece Man The Change walk briskly through the door to deliver their newest 6-track EP, 'Defeated'. This record features lyrics that come straight from the heart via the voicebox out into the open in sweet melodic serenity. Tales of old loves, anxiety, self-doubts and loneliness ride along the hooks that sit astride the musical structure, which is so enjoyable and weirdly calming to listen to, despite the sombre nature of their songs.
The aforementioned structure that helps to smoothly deliver the band's tales features a fast-paced current of melodic hardcore punk featuring clean urgent vocals from Mario Troiano, which are supported with the occasional grit-fuelled shout in the background. The fast, urgent tempo of the band's craft sometimes descends into a euphoric melody that slows your current state as if you were lost in the clouds, as found towards the end of 'Journeyman' and in the beginning of eponymous final track 'Defeated', but such intervals and intros are broken as you trip over the steps back into that fast paced melodramatic outburst.
All in all, Man The Change have made a record which shines out the full promise of a band realising their potential, and have definitely laid the foundations that set them apart from the usual cookie-cutter crowd. This four-piece are certainly a group to keep your eye on in future.
3.5/5
'Defeated' by Man The Change is out now on Hooked On Records.
Man The Change links: Website|Twitter|Facebook|Tumblr
Words by Aaron Lohan (@ooran_loohan)