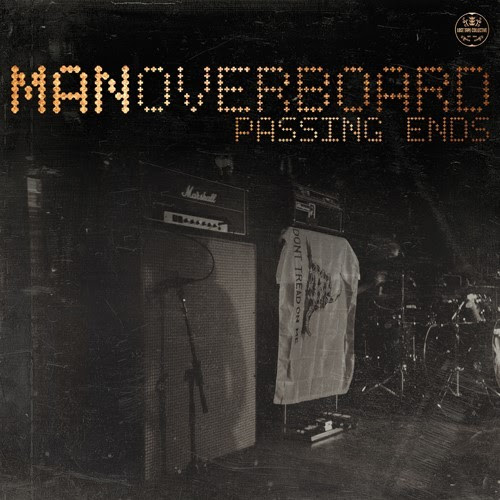 Man Overboard try to escape pain and the upheavals of daily life but fall deeper into a bout of bitterness with their new EP – 'Passing Ends'. The New Jersey band lash their sound with depressive and pessimistic notes. But that doesn't jeopardise the record, it actually gives the contribution a supreme quality. Sadness has its place and is a pivotal part of pop punk music. 'Passing Ends' is like a letter to a lover that dismisses and moves on rapidly without a second thought.
The EP focuses on love that is strained and pain that is too embedded. Like gnawing toothache or a broken arm. The band have said that 2014 has been a tough year. That shows on 'Passing Ends' and you will hear it without having to dig profoundly. The complete anguish and pleas are there, mounting up and then spilling over, cascading all over the band members little hells.
'Passing Ends' is short and punchy. Offering tenacity. First track 'Twenty Years' offers the listener an acoustic melody drenched in negativity. Lyrically it pinpoints a man's downfall and his fall from grace. He's tried for twenty years to make it, to enter a new life. 'Passing Ends' comes second, it's a track that will lift the mood a little and will blow out the cobwebs. The simple riff is pleasing and it keeps the momentum from failing. The lyrics stick to the ribs of pessimism again. The whole record claws at clarity and positivity but never finding it amongst the thorns.
'Stood Up' centres around lost love and lies. The simple acoustic melody and sincere vocals match together beautifully. The protagonist in the story is stubborn and just wants romance without the bitter taste. 'Secret Pain' is another acoustic ballad, simple in its framework, it has an infectious chorus that burns brightly. Yet again the song is about sadness and reflection. 'For Vince' is a little more loud and capable of being the best song on the EP. Lyrically it's poetic and sincere. The acoustic guitar measures up brilliantly.
Man Overboard have placed their all into 'Passing Ends'. Utilizing the acoustic guitar wonderfully, stringing together poetic lines.
5/5
'Passing Ends' by Man Overboard is out now on Lost Tape Collective.
Man Overboard links: Website| Facebook|Twitter|Bandcamp
Words by Mark McConville (@Writer1990Mark)