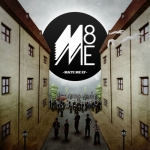 'Hello! We are M8ME from Korolyov, Russia. We play loud and fast rock music your grandma probably calls "noise" '. That was my introduction to M8me. I'll be honest, that cliched line did not leave me with high hopes for the Russian five piece.
This four track debut comprises of three original tracks and a remix, which we'll get to in good time. The opening track 'Don''t You Know' is typical Epitaph/Fat Wreck Chords four chord punk. It's a decent stab at it too; crisp, fast and melodic. It has all the required parts and is a pretty decent track overall.
<a href="http://m8me.bandcamp.com/album/mate-me-ep" data-mce-href="http://m8me.bandcamp.com/album/mate-me-ep">MATE ME EP by M8ME</a>
Next up is 'The Last Talk', a slower affair that reminded me of Creed if they were a nu metal band in 2002. Such a promising start to the record had raised my expectations and then M8me give me this. It even has a part with some whispered sweet nothings, to show how emotional the band are.
'Forever' is the last original track. It's back to the Epitaph/Fat Wreck Chords sound. Melodic guitar parts rise and fall and the vocals sound really great here, almost like The Swellers. It's simple stuff but it works well and the band are obviously proficient enough to write a good track or two as this EP proves.
Maybe we can just pretend 'The Last Talk' doesn't exist. Oh wait, we can't. Theres a remix of it tacked onto the end. I've gotten irate before about things like this, and once again it's just not needed and feels like it was just stuck on to the end to make the EP a bit longer.
Overall, two of four tracks on offer here are decent. M8me obviously have some talent, if they stick to the fast, melodic punk we see in the first and third tracks, they can't go far wrong in my opinion. Sadly one track and a remix let the side down a bit. However two good songs and two bad ones balance it out I guess. A decent first effort and if the band stick to what they are good at, I'd be interested to hear some more.
2/5
'M8me' EP by M8me is available now on Bandcamp.
M8me links: Official Website|Facebook|Twitter|Bandcamp
Words by Ryan Clayton (@clayton_ryan)