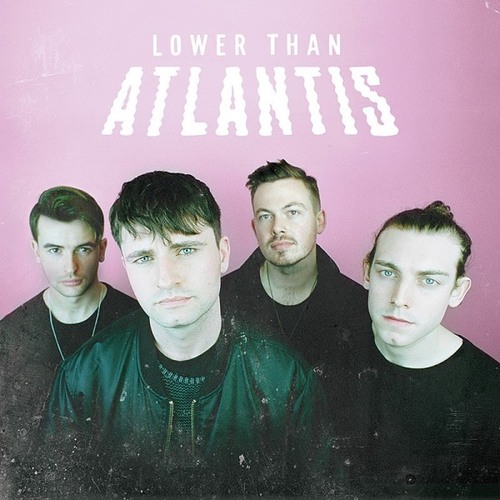 In recent years Lower Than Atlantis have been earmarked as being part of a group of UK bands bringing rock back to the masses. However whilst the careers of some of the bands have fulfilled their potential, Lower Than Atlantis' has been stuttering due to hit and miss releases with 2012's 'Changing Tune' proving to be a disappointing outing.
Having served ties with Island Records, the quartet have given it another shot of being on a major label and have signed with Sony for this self-titled effort. For some the band's fourth album could be considered a make or break release. Will 'Lower Than Atlantis' spark renewed interest in the band? Does it see LTA getting back on track?
Well to an extent yes. 'Lower Than Atlantis' sees the four piece continue to move away from punk/hardcore influence of their early days and continue to settle in their radio-friendly Rock skin. From the start 'Here We Go' sees them settling for a boisterous sound consisting of huge choruses and slick production. The track itself is made for radio and whilst it provides a bold opener, it's quickly forgettable.
Thankfully the recent double A-side paring of 'English Kids in America' and 'Emily' serve their purpose with a double dose of infectious choruses that will remain in your head for quite sometime. Whilst the quality of songwriting is far from extraordinary with hooks as good (and very simple) as "Emily will you sit next to me? You've got a pretty face. I'm a waste of space" you're not going to hear us complaining.
One issue that does hinder 'Lower Than Atlantis' is the excessive use of clichès. Throughout you'll see frontman and songwriter Mike Duce borrow from a range of well-known phrases. From "every dog has its day" (see 'Emily'), to "home Is where the heart is" ('Live Slow, Die Old.') Duce is rescued by using clichés. Some may label it as lazy songwriting, whilst others will call it genius.
Nevertheless there is plenty of variation to keep you interested. 'Stays The Same' is an album standout with its calm build and punchy chorus. 'Live Slow, Die Old' is a thriving alt rock number with driving guitars whilst 'Time' is snappy dominated by hand claps but is one of the weakest numbers on here.
Elsewhere 'Words Don't Come Easy' begins with twinkling acoustic guitars before breaking into a bouncy chorus. 'Just What You Need' is an album and possibly a career low point with its crooning delivery and lyrics about finding love in a club. In some ways it epitomises how diluted LTA have become.
'Number One' closes the album and despite its huge chorus and taking a lyrical stance of Duce being true to himself and not giving up "to a number one", it's an ineffective closing to an album that shows glimpses of goodness.
Lower Than Atlantis in 2014 are a band that have moved on from their punk roots and have developed a knack for writing rock songs that are dominated by bold choruses. By labelling this fourth effort as self-titled, it's clear they are a band with intent. However the end product more than often comes across as rushed and even false. Nevertheless 'Lower Than Atlantis' will solidify the band as big players on the emerging major rock scene, even if they're carrying a record with musical and lyrical flaws.
3/5
'Lower Than Atlantis' by Lower Than Atlantis is out now on Easy Life/Sony Red.
Lower Than Atlantis links: Website|Facebook|Twitter
Words by Sean Reid (@SeanReid86)