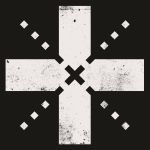 You may well not have even the slightest clue who they are, but there's a three-piece from the humble city of Derby, UK who may very well be about to blow up, big time, like…really fucking famous.
When I started listening to 'Shapes of Screams', which is surprisingly the third full length from LostAlone, my reaction was not good. Big, silly auto-tuned harmonies soared over ridiculously OTT power pop-rock that sounded somewhere between Queen and Fall Out Boy. This, I thought to myself, is totally stupid.
Moving into second track and first single 'The Bells! The Bells!!', the feeling lingers, for a while at least. Then slowly but surely it begins to alleviate, and you start thinking, "Well, there's no denying this is a bit different". "Wow, well this is actually pretty catchy I suppose". "This should be awful but it's actually a lot of fun".

By the time you get to 'Hostages', the transition is complete and LostAlone somehow have their hold on you. Inexplicitly you find yourself giving in to them. They have an overwhelming audaciousness which is akin to My Chemical Romance coupled with a love for the theatrical and flamboyant. And for a three-piece, with all members contributing to the vocals, they make a hell of a racket.
Dan Weller, producer of the likes of Enter Shikari and Young Guns, caught a chance hearing of LostAlone on Zane Lowe's Radio 1 show, and offered to take on production duties for their new record. He did his best to bring out the bombastic, ostentatious nature of the band, and with moments where he layers up to 100 vocal parts on one line it's enough to make Billy Corgan seem meek.
Every song feels different, each has its own quirks and character, and this enhances the sense that there's something special about this release, because it has character and defines itself and that is the one and only basis on which a great album can truly be judged.
'Sombre Party' has the feel of a classic pop song, like something Abba would write. 'Mental Health' is all vocal melody and elegant, shimmering chords, sounding almost Brit-pop in nature. Then you have 'Requiem' which sounds like it fell straight from the set-list of a rock n' roll musical.
What's definitely present is the same captivating, consuming feel you'll remember from those first listens to 'Take This To Your Grave' or 'Deja Entendu'. I'm not saying this album will turn out to be quite as good as the aforementioned, but it offers the same sensation that there are new things to be found on every next listen, and this isn't plastic pop but earnestly conceived and high quality.
What the band do lack is a defining vocalist who will imprint their signature to every track in the same way as a Hayley Williams or a Patrick Stump. Steven Battelle takes the lead but does not possess significant vocal strengths, and the band balance this by making heavy use of support vocals from bassist Alan Williamson and drummer Mark Gibson. To an extent they are successful, but I'm not sure they are doing quite enough to compete with the top dogs.
Also, it's difficult to determine at this stage just how big the band members are as personalities. Are they big, brash and bold yet smart and dynamic like a Gerard Way or a Pete Wentz? Only time will tell.
What's for sure right now though, is that LostAlone have managed to write an incredibly catchy and larger than life album here. It's odd that it's been so long in the making, but maybe the combination of enough experience and the right producer created the conditions for them to thrive. Either way, on a sustainable basis or otherwise, chances are LostAlone will be bothering the charts soon enough.
4/5
'Shapes of Screams' by LostAlone is out now on Graphite Records.
LostAlone links: Facebook|Twitter
Words by Alex Phelan (@listen_to_alex)