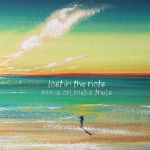 Right away, there's a sharp pang of anticipation when I read that the band I'm reviewing this week are billed for ArcTanGent. For anyone unfamiliar, the Bristol based three dayer serves as a very welcome platform for the heavyweights of underground math rock / post rock and prog, plus the budding homegrown artists looking to hatch from relative obscurity. And that's where Lost In The Riots look to settle in. There's more to the Watford lads battleplan also as they look onward to a 14 date tour in support of the album. Yet for a band with evident forward thrust, it's certainly in short supply on this difficult second album.
There's some intelligent riffing dotted sparsely throughout, sure. It's a short boast of musicality best represented in picks such as 'Kong' and 'Coney Island', which faintly channel the likes of the infinitely better Ninetails and Vasa.
But the whole release is marred for the greater part through a number of equally vexing faults. The wealth of ideas here are underwhelming, prosaic and are executed with little feel or apparent understanding of the context in which they appear. "You're an instrumental band", I want to tell repeatedly throughout. "Make it interesting".
The production value of the album is its biggest comprise. The drums have about as much punch as someone slapping their palms against a dinner table for 50 minutes plus. And whilst the guitars don't suffer too badly in the cleaner sections, the overdriven crescendos are fizzy as hell and often surmounted by screechy lead riffs that sound like a goony little brother pratting around on a shit amp in the next room.
In a genre where momentum and crescendo is everything, there's an underwhelming shortage of both. As to why this band have confidently been compared to names of greater ferocity like Mastodon and Explosions In The Sky is beyond anyone's guess. A thoroughly grating listen.
1/5
'Move On, Make Trials' by Lost in the Riots is out now on Lonely Voyage.
Lost in the Riots links: Website|Facebook|Twitter
Words by Joe Danher