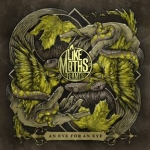 After a two year wait, Like Moths to Flames are finally ready to release their second full-length. Having toured with the likes of Parkway Drive and We Came As Romans, their latest effort 'An Eye From An Eye' is exactly what you'd expect – ten tracks of shouty, aggressive metalcore. It's also surprisingly listenable.
If you were anticipating lyrical maturity or emotional depth, you'll be sorely disappointed, as what Like Moths to Flames specialise in is dumb, paint-by-numbers music. If you remember to leave your brain at the door, it's a perfectly enjoyable listen. Filled with breakdowns, melodic choruses and simple lyrics to shout along to, it doesn't take much concentration to enjoy and there are plenty of hooks to draw you in.
First track 'You'll Burn' kicks off the album with the same aggressive guitars and powerful vocals which tear through the next ten tracks. The lyrics are simplistic; "I will gladly bite the hand that feeds, it doesn't feed enough", "Too young, too young to be this fucked up" and "Fuck, fuck this life that only takes from me" are token examples and this means you'll catch yourself shouting along before you realise you're doing it. Songs cover standard ground for this genre, including loneliness, overcoming, standing your ground, and struggling with life. It's not a game changer, but it's acceptable.
'An Eye For An Eye' has a couple of standout moments; the interlude before the breakdown on 'I Solemnly Swear' sounds great and just like every other metalcore album at the moment; 'An Eye for an Eye' is also bursting with token guest vocal spots. 'Into the Ground' features Shane from Silverstein and 'Lord of Bones' features Ahren from The Amity Affliction – while neither really gives extra depth to their track, it's still a nice extra.
The low point of 'An Eye For An Eye' is 'In Dreams' which is absolutely dire, with Pierce the Veil-style clean vocals and dreadful lyrics. It's not something that should ever be inflicted on anyone; it also shows that Chris Roetter's vocals aren't really up to scratch.
Like Moths to Flames are the kind of band you'd probably never pay to see, but would really get into if they were a support band and you'd had a few beers. 'An Eye for an Eye' is the same, it won't change your life but you'll enjoy it while it's playing. It's worth a look, but don't rush out to grab it.
3.5/5
'An Eye For An Eye' by Like Moths to Flames is out now on Rise Records.
Like Moths to Flames links: Instagram|Facebook|Twitter
Words by Jay Sullivan.