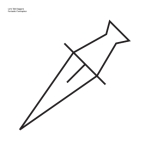 Eastbourne may be known as "the sunniest place in Great Britain", but from the South Coast resort town, something dark and malevolent this way comes. Three young men who go by the moniker Let's Talk Daggers here bring us 'Fantastic Contraption', a mini-album which sees them compile efforts from previous EPs 'Winter' and 'Blankets' and give them a complete overhaul, with the lyrics, instrumentation and structures all given a new lick of paint.
Released on the prestigious Tangled Talk label, Let's Talk Daggers' latest effort is an all-out musical assault from start to finish – imagine the technical approach of The Fall Of Troy and Rolo Tomassi, meeting the sardonic, deadpan vocal delivery (with a sharp sense of adventure and fun) of Blakfish, Shapes and The James Cleaver Quintet, and the invention, experimentation and all-guns-blazing brutality of The Dillinger Escape Plan, and you're somewhere close to the jaw-dropping effort that is 'Fantastic Contraption'. 'The Bear Of Bad News' commences proceedings, a rampant juggernaut of an opener that plunges you into LTD's chaos, and envelops you in the eye of the storm, as frantic riffs, blistering drumming and brain-melting time-signatures are sent spinning around your head delivered with a frightening purpose and intent. It serves its purpose fantastically as an opener, but it's not even close to preparing you for the events about to unfold. 
'Round And About' throbs with the same manic energy that possessed the aforementioned Dillinger Escape Plan when they created the 'Irony Is A Dead Scene' EP with the iconic Mike Patton; and if this is manic, then '#1 Spicy Bugger' is criminally insane. What starts out as a thrashy sonic mêlée is accentuated by parping horns (don't get excited ska fans, they don't turn into Reel Big Fish) and wailed "la la la's" that sound like the oom-pah band of your worst (Oktoberfest-themed) nightmares.
'Have A Gabble', a video for which appeared recently, is the centrepiece to the record that encompasses all their greatest attributes; lurching like a bull in a china shop, changing pace constantly but still retaining songwriting skill and panache and instrumentation tighter than a gnat's sphincter, building to a triumphant final flourish. Let's Talk Daggers here prove time and time again that they couldn't write an ordinary, mediocre song if they tried, as 'Humannequin' closes out with the sort of riff Brian May would be proud to write.
'Footnotes' shows yet another side to this multi-faceted band, closing the curtain on the record in the latter half of this track with the sort of emotive, anguished hardcore more expected of some of their Tangled Talk labelmates, incorporating a beautiful string sample you wouldn't be surprised to find on a Mono record. This album is phenomenal from start to finish, the pinnacle of what they've worked on for 3 years, the sound of a band realising their potential after the hours of grafting and touring constantly. For anyone who's ever enjoyed a bit of heavy music on the eccentric side of the scale, Let's Talk Daggers are ready and waiting to be discovered, and the listener shall be justly rewarded.
5/5
'Fantastic Contraption'  by Let's Talk Daggers is out on the 25th March on Tangled Talk Records.
Let's Talk Daggers links: Facebook|Twitter
Words by Ollie Connors (@olliexcore)