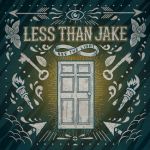 Less Than Jake is a punk/ska band and 'See The Light' is their ninth effort spanning their 20-year career. Less Than Jake are a powerhouse in their own accord and have been top of their tier for a long time but have kept themselves grounded with their roots and consistent with their sound, 'See The Light' showcases this perfectly.
Upon hearing the saxophone in the first bar of 'Good Enough', the memories of high school and listening to 'Hello Rockview' came flowing back in a hail of nostalgia, with tracks such as 'Last One Out Of Liberty City' and 'All My Best Friends Are Metalheads' respectively.  'Do The Math' has quirky riffs with more stripped down slower passages that still manage to keep up with the fast paced songs throughout.
'Jump' is another strong track with punchy drumming, awesome groove and one of the catchiest choruses this side of 2013.  'American Idle' is one of heaviest tracks on the album and lyrically focuses on not forgetting old memories and beginnings, and while still keeping to the happy vibes on the album, masks the darker themes with hooks and catchy sing along vocals.

After listening to this album multiple times, it becomes apparent that Less Than Jake are trying to take less steps in changing or altering their sound further, and are taking what they already have and hone in what makes their music so much fun in the first place. Some may say that the album might need more variety but as the old saying goes 'If it ain't broke don't fix it' certainly applies here.
Overall this album has tons of energy which shows that Less Than Jake are still kings of their trade and even after 20 years are able to make an album that doesn't take itself too seriously, but is still relevant for new and old fans alike.
4/5
'See The Light'by Less Than Jake is out now on Fat Wreck Chords.
Less Than Jakes links: Website|Facebook|Twitter
Words by Grant Fullick.