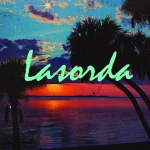 What happens when you put members of The Get Up Kids, The Honorary Title, fun. and Kevin Devine's Goddamn Band together to make a record? The answer is indie rock supergroup Lasorda. I went into this record expecting poppy indie rock, what I got, however, was something a little more than that. Mostly driven by synthesisers, and Suzannah Johannes' sweet, innocent sounding vocals, with Pryor providing backing on occasion.
Lasorda came as a little bit of a shock to me but the record really holds its own. Opener 'The Age Of Wonder' works well as it gives a perfect example of what Lasorda are all about and chances are if you don't enjoy this one, you won't like the rest of the record. However, I did enjoy it and as the album goes on each track gets better. 'FiveFiveFourTwo' stands out for me as one of the best tracks, driving synth, Johannes' great vocals, and has some excellent guitar work towards the end. Imagine if Echo Beach had been written for a Michael Cera movie and you'll be on the right track. 
Other stand outs are 'Of Little Faith', a slower track with the catchiest synth part of the entire record and lyrics that are so easy to catch yourself singing along to. The Get Up Kids' Matt Pryor takes the lead on 'Sleep When You Are Dead', a slightly more upbeat track. It showcases a playfulness and almost sounds like a b-side from The Get Up Kids' last record. The closing two tracks 'Go On Give Me The Bad News' and 'His Laugh Is Lowe' flow seamlessly and the contrast between the two sums Lasorda up perfectly. They do upbeat and quirky just as well as they do slower more introverted tracks.
Lasorda have crafted a refreshing indie pop record that will no doubt be popping up in movie soundtracks throughout 2013. It's a strong début from already accomplished performers. We know these people can write enjoyable music and although not what I was expecting Lasorda have well and truly drawn me in. Matt Pryor has said on his podcast that they probably won't tour but I'm fine with that and I'll take anything Lasorda can give me.
3.5/5
'Lasorda' by Lasorda is released on 11th December on Clifton Motel.
Lasorda links: Facebook|Soundcloud
Words by Ryan Clayton (@Clayton_Ryan)