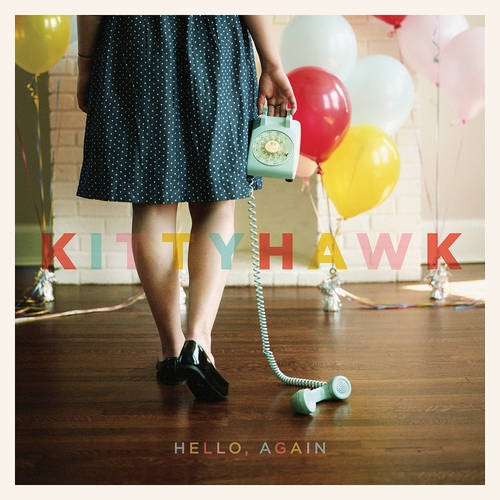 I have to admit by aligning themselves with Count Your Lucky Stars, Chicago four piece Kittyhawk automatically give me hope as the emo revivalists' label has built a flair for releasing decent albums in recent years. 'Hello, Again' is Kittyhawk first full-length outing and proves to be a record that is pleasing on the ear yet lacks a lasting impact.
From the beginning 'The Petravicz Estate' sets the tone for the rest of the album with 90's emo-esque guitars delicately plucking away whilst Kate Grube charms us with her cathartic melodies. 'Sunny Day Renter's Insurance' and 'Vaudeville' soon follow and with them brings a sense of introspectiveness to the album. On the latter she states "It's just like the dream I've been having/where I ruin my own surprise/and all of my enemies forming/as I fight them they multiple/it's like my own skin is a costume/and I don't know what's inside." This sets up a constant theme of self-doubt and self-reflection that makes the record feel homely.
Musically the band don't stray from their summery, twinkling emo style. Tracks like 'Jude II' and 'Welcome Home' emphasise the band's use of upbeat melodies. It has be said there is certainly a sensible pop side to 'Hello, Again'. 'Hans Christian Andersen' and 'Seasonal Abjective Disorder' are bright yet the band's apathetic tone is still in tact.
Whereas on 'Self v. Former Self' they produce one of the albums most softest yet darkest moments. It highlights the band's more cathartic side.
Although 'Hello, Again' is far from an awful record and it is definitely consistent, it suffers from the lack of longevity. Later songs 'Better Gardens' and 'Tourisme' are pleasing to hear and fit the band's sound, however they end the album on a limp. Sure you could blame a variation but it's clear Kittyhawk can pull off the emo sound brilliantly well. The album falls into the trap of each tack gradually blending into one.
I'm sure fans of the genre will fall in love with 'Hello, Again'. It has that admirable lyrical self-doubt that's complimented by twinkling, circling guitars and bittersweet musicianship that easily draws you in. It is just unfortunate 'Hello, Again' doesn't have a long lasting appeal to those wanting more than your standard emo band.
2.5/5
'Hello, Again' by Kittyhawk is out now on Count Your Lucky Stars.
Kittyhawk links: Facebook|Twitter|Tumblr
Words by Sean Reid (@SeanReid86)