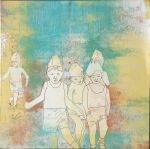 Few albums released this year will be quite as blissful or as soul-restoring to listen to as 'Come On Wandering', the release from Philly's Kite Party.
As soon as opener 'Bell' meanders its way into your consciousness, it just makes you feel, well, good. It instantly brings to mind long lazy summer evenings and a half-formed sense of wanderlust. As its title suggests, this album is pure and unabashed musical escapism. Admittedly musical escapism disguised as grooving, mesmerising slacker-pop with the merest hint of punk sensibilities and a topping of abstractly poetic lyrics.
Many of the tracks juxtapose wistful recollections of a partly remembered past against a distinct anxiety with a less than rosey present, all the while fantasising about leaving it all behind for somewhere dreamier and less conformist. Musically jangling barely distorted guitar riffs bounce playfully off of mid-tempo bass riffs that chug effortlessly along; leaving it to the drums to add a sense of urgency to the mix and keep things moving forward. Clever but subtle variations in the pitch and time-signature of the guitar riffs also serve to heighten the opposing senses of anxiety and glorious escape.
Kite Party are yet another example of the Philadelphia area being a hotbed for new, diverse and interesting takes on the well established east coast punk sound. 'Come On Wandering' manages to be both introverted and reflective, providing a nonsensical take on the pressures of life, that somehow makes perfect sense on a sonic and emotional level. The record has the ability to transport the listener to another place entirely, even if you can never quite pinpoint where that place is. As the nights continue to draw out, 'Come On Wandering' will increasingly seem like essential summer listening.
4/5
'Come On Wandering' by Kite Party is out now on Animal Style Records.
Kite Party links: Website|Facebook|Twitter|Tumblr
Words by Dane Wright (@MrDaneWright)