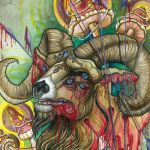 Teaming influences from the likes of Candlemass, Black Sabbath and a wealth of early psychedelia, Brighton metallers King Goat have unleashed their latest offering with promises of weighty riffage and hypnotic doomy textures.
Its certainly bold to open a 3 track release with a 13 minute song. Nonetheless, King Goat begin their sophomore effort with 'The Final Decline', easing in with phased guitar licks that nod to Lateralus-era Tool. However, its nearly 7 minutes before there's any real momentum, teamed with some borderline comedic droning from vocalist Trim. The final few minutes of growls and galloping drum grooves are frankly not enough to merit the track's self indulgence.
'Cult Obscence' meanders around a tiresome and clunky bassline, before leading into a series of Opeth-like modal riffs and overly theatrical vocals. Whilst there's a brief glimmer of promise in a tremolo heavy chorus, the majority of these 7 minutes are ideas seemingly far too stock to command any real attention.
The Mastodon-esque guitar work and enveloping vocal melodies of 'Melian's Trance' are a little more refined, and make for arguably the best track of the lot. Its just a shame that the release as a whole fails to deliver the grandeur and visceral grit that it so sorely needs, especially when pitted against the giants of the genre they claim to take influence from.
2/5
'King Goat' EP by King Goat is out now.
King Goat links: Bandcamp|Facebook
Words by Joe Dahner