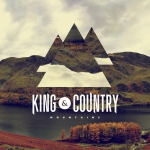 King and Country, a four-piece alt rock band out of Wales, has their sites set on national exposure with their new EP 'Mountains'. Forming in 2011 and with EP experience already under their belts with 2012's 'Changes' and even a bit of airplay on BBC Radio One, it seems that King & Country may be on the right track for their goal.
Starting off with a heavy vibe ripe with minor chords, 'One for the Weekend' maintains a rock edge whilst mixing in bright pop moments. Lead vocalist Ashley Taylor has a clean and simple voice that lends itself well to the band's style but this track ends up being a bit cliché with bland melodies and cliché lyrics.

'Cherish What You Have' brings a bit of attitude with some complicated guitar riffs and an anxious baseline. But the 'whoa-oh's' taking over the chorus, added to the simple melodies, makes this track very radio friendly but also drowns out any potential this song could have.
And this continues for the rest of 'Mountains'. It's all very generic and expected and anything interesting or unique is just a fleeting moment. 'Not Alone' is dramatic and has a bit of a funk element to it, but nothing really happens. 'Soldiers' is the same story, angsty vocals with an edgy vibe but the song doesn't really go anywhere.
'Mountains' has all the elements of something great, but it somehow falls short of attaining greatness. It's all very generic and expected and there's virtually nothing there to help King & Country stand out from the vast hordes of similar-sounding bands. The song structures are very basic, the lyrics lack emotion, and anything that could possibly push a song to the next level is quickly eliminated by the blandness of it all. No boundaries were pushed and no limits were tested, which really is a shame because this entire band has a lot of talent but doesn't seem to know how to use it.
2/5
'Mountains' EP by King & Country is releaeed on 6th May.
King & Country links: Facebook
Words by Jenny Gagas