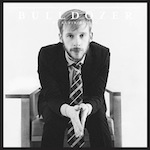 The clichéd sobriquet of "the hardest working (wo/)man in the business" could be applied to many, but in the case of Kevin Devine, he would be very deserving of the title. Just shy of a year after releasing Bad Books' (Devine's band with Manchester Orchestra's Andy Hull) second record, Devine is releasing two records simultaneously. These not only respectively represent Devine's 7th and 8th studio albums, but also represent two sides of Devine – one of which is the artist woven into the rich tapestry of the great American songwriter, the other more in keeping with his previous indie rock outfit Miracle of 86, who recently reunited for a string of shows – told you he was busy!
Many of Devine's forebears released two albums on the same day – Springsteen, Waits, Costello and Oberst to name but a few, and they shape the sound of 'Bulldozer' alongside perennial Devine luminary, Elliott Smith. His spirit is revived in tracks such as 'Little Bulldozer', which is preceded by the chiming, bolshy opener 'Now: Navigate' featuring delightful backing vocals from Mark Lanegan collaborator Isobel Campbell. 'Couldn't Be Happier' is also redolent of Smith, but simultaneously hearkens back to the more doleful sounds of 2009 record 'Brother's Blood'.
The decision to continue with the full-band setup from previous album 'Between The Concrete And The Clouds' has proved a wise one, as it has allowed Devine to make his most strident album yet. The infuriatingly catchy 'The Worm In Every Apple' and the fiery 'She Can See Me' are indicative of the swagger Devine has developed when fronting the band constructed by producer Rob Schnapf, and his vocal grows in strength when atop plugged-in instruments, whereas on previous outings he has had a tendency to mewl a little. The benefit is seen across the board; if 'Safe' was left as an acoustic ballad it may have felt throwaway, but KevDev's voice sounds fantastic soaring over a bluesy riff on this record's closer.
Even with everything else on his plate, Kevin Devine can still be relied on to deliver, and grows from strength to strength as a songwriter. If there was but one minor quibble, it would be that other than a mid-section passage, encompassing the aforementioned 'Couldn't Be Happier', the excellent 'You Brushed Her Breath Aside' and the wistful 'Matter Of Time', songs are not given the necessary space to fill out and thus can feel a little suffocated. Nonetheless, this is still a fine addition to Devine's stellar canon, and develops well on the groundwork 'BTCATC' laid down.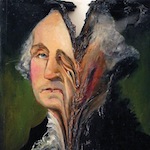 There are hints of Devine's more political element on 'Bulldozer', but right from the off 'Bubblegum' provides an outpouring of ire – whether it be 'Private First Class', concerning the document-leaking scandal of Bradley Manning, or 'Fiscal Cliff' which decries the US Government's recent financial crisis. If 'Bulldozer' is a wise, mature record, then 'Bubblegum' is its bratty, angsty cousin – it's not a million miles away from its cohort, but everything here is just louder. Take for instance the storming 'Sick Of Words' or the rip-snorting 'Bloodhound' – even 'She Can See Me', one of the more raucous elements of 'Bulldozer', is here given a ferocious Nirvana-esque makeover.
This record was produced by (and features the backing vocals and bass guitar playing of) Jesse Lacey (doesn't he have anything better to do…?), and you can see his distinctive fingerprints on this work – 'I Can't Believe You' is somewhat reminiscent of Brand New's Daisy-era material. This leads into the dark and atmospheric 'Redbird', which benefits from the expansiveness missing from some parts of 'Bulldozer', eventually swelling to a satisfying peak and aftermath. However, do not mistake this for a collection of dirges – the high-octane indie-rock returns in the eponymous track, and it's quite the adrenaline rush.
In fact, the album reaches its true peaks when Kevin Devine and the Goddamn Band's scintillating grunge-pop hurtles at full-throttle, such as on the fantastic 'Somewhat Occupied'. As a Brooklyn-ite, Devine must surely be sick to the back teeth of droves of "cooler-than-thou" hipsters, and takes them on in the pithy 'I Don't Care About Your Band' – however, despite landing all its jabs, it's a poor choice for a finale, and sees this album go out on a slightly more sour note than a triumphant one. Overall though, Devine's venture into noisier territories proves a successful one and much more than a fun experiment for him and his blaspheming bandmates.
Ultimately, and perhaps most importantly, it compliments its accompaniment very well indeed. Both contain their individual merits, and earn their claim to be treated as separate entities, rather than a double album. These albums' realisation was aided by the tenth most successful project in crowd-funding website Kickstarter's history, and proves to be money well-spent.
'Bulldozer' – 4/5 / 'Bubblegum' – 4/5
'Bulldozer' and 'Bubblegum' by Kevin Devine is released on 14th October through Big Scary Monsters Records.
Kevin Devine links: Website|Facebook|Twitter
Words by Ollie Connors (@olliexcore