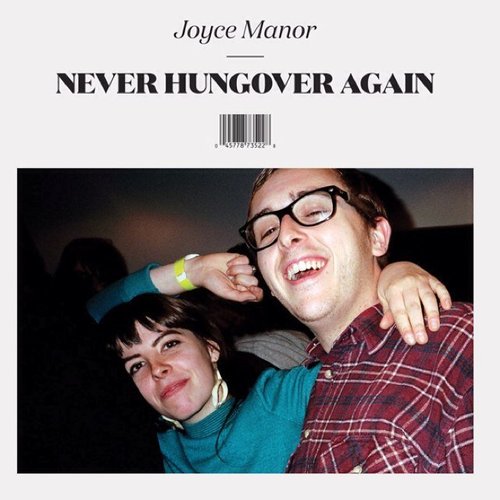 Returning to your roots, like most things, can be either good or bad, depending upon how it is handled. On their last release, Torrance, California indie punks Joyce Manor took a bizarre, near experimental pop sensibility on 'Of All Things I Will Soon Grow Tired'. Now, on their Epitaph debut and third LP, the band slightly treads back to where they started, with the style which hooked their fans in the first place. 'Never Hungover Again' is the spiritual follow up to their self-titled first album; it is Joyce Manor at their most mature sounding, without losing their trademark catchy bite.
Opening with 'Christmas Card', you can tell this is classic Joyce Manor, yet they sound slicker. All the rough edges have been smoothed out, without losing any grit. Follow up song 'Falling in Love Again' dazzles with pop infused alt punk, which blossoms with a synth and a sincere finish. Whilst this song and 'End of the Summer' are mid tempo sweethearts, the likes of 'Victoria' ups the tempo adding a weighted element to the delightful punk tone. The most beefy number, however, comes from the minute long 'Catalina Fight Song' (the video of which sees the quartet in a hilarious predicament involving martial arts). It chugs away in a tough to chew, easy to digest fashion. 'In the Army' is another song with bite, though it comes with rapid fire guitar melodies amongst rolling drums, sealing a fine partnership of contrast.
The album's focal points though come through the double whammy by 'Schley' and 'Heart Tattoo'. The former whisks you away with a bass note, twirling you around with a memorable guitar line from some far, distant land. The latter song follows with a bassline and a drum fill, sucking you into a fantastic hook and harmony to die for! Both tracks feature what's really good about this record and Joyce Manor as a whole. Tender vocal harmonies sprinkled with angst, swooning guitar melodies, addictive basslines and toe tapping drum rolls. This is the structure that allows Joyce Manor to produce fantastic heart on sleeve punk songs, added with the right amount of kick to prevent it from sinking into a quicksand pit of cheesiness.
Conclusively, 'Never Hungover Again' is a wonderfully enjoyable third album by the indie punks. Joyce Manor have refined their best qualities and neatly packaged them up into a pop-infused punk record of delight. It has all the right hooks, bite and whimsy about it, but the band expresses these parts in the most mature way possible. 'Never Hungover Again' is the epitaph (no record label pun intended) of Joyce Manor's hard work as a group. It is a document of their experiences; it needs to be heard repeatedly, over and over, to be believed and cherished by the listener.
4/5
'Never Hungover Again' by Joyce Manor is out now on Epitaph Records.
Joyce Manor links: Facebook|Twitter|Website
Words by Aaron Lohan (@ooran_loohan)