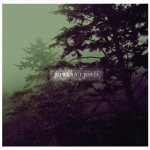 Very few people have heard of Victor! Fix The Sun, but they were pretty fantastic. Marrying the post-hardcore dynamic of Bear vs Shark to the progressive, screamo-influenced envelope-pushing of fellow inhabitants of Grand Rapids, MI, La Dispute, V!FTS split up last year – check out full-length 'Retractable Claws' if you can – and 2 of them became this new outfit, Jowls. At the root of it, Jowls are a similar prospect to V!FTS with their roots defined in the screamo of bands like Pg. 99 and Circle Takes The Square, but this skews the traditional path of a screamo record in an altogether noisier direction.
This takes more cues from the sludgier side of things, acts like Harkonen, The Jesus Lizard and Young Widows, definitely not something you'd expect of a band so deeply rooted in post-hardcore. The opening track 'Ruins', for instance, pummels and bludgeons; where traditional screamo would stutter and quicken the pace, this retains a menacing undertone throughout, reminscent of post-Botch project These Arms Are Snakes. 'Shamewalker' builds from a steady, hooky bassline intro into a mid-tempo rhythmic sway, which provides familiar ground for the V!FTS listener, quickly snatched away again by the grungey 'Monotoned'. This chaotic 3 minutes provides a centrepiece for the entire record, rounding off a solid first half of proceedings.
<a href="http://jowls.bandcamp.com/album/cursed" data-mce-href="http://jowls.bandcamp.com/album/cursed">Cursed by Jowls</a>
Unfortunately, the form does not continue into the second half of the six-tracker – the fine vein they've tapped into starts to falter, and interest starts to wane. 'Long-Winded', ironically the longest song on the EP at just over four minutes, starts promisingly enough, but meanders into well-trodden territory for bands the likes of We Were Skeletons, Pianos Become The Teeth and Caravels. Therefore, this EP, although very promising in places is a mixed bag – the score below may not reflect the quality of the initial showing, but is instead of a reflection of a band still struggling to find their feet and their furrow. I expect this will not be the last we hear of Jowls and when they find their sound, we're in for something special, but for now, file under "embryonic".
3/5
'Cursed' by Jowls is available now on Tiny Engines.
Jowls links: Facebook|Bandcamp|Tumblr
Words by Ollie Connors (@olliexcore)